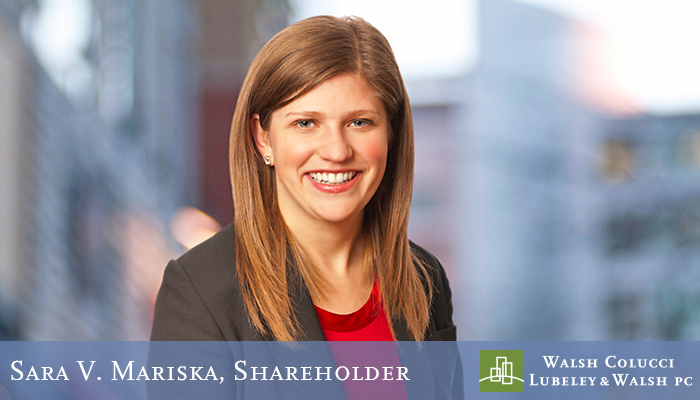 Sara Mariska was born and raised in Burke, VA and attended the University of Virginia where she earned a Bachelor of Arts degree in English. During her time at UVA, she was a member of the Charlottesville University Symphony Orchestra, Early Music Ensemble, and the Echols Scholars Program. She went on to earn her J.D. from the Marshall-Wythe School of Law at the College of William & Mary where she was an articles editor for the Law Review and violist in the William & Mary Symphony Orchestra. Prior to joining the firm, Sara gained invaluable experience in land use and zoning law while working for Fairfax County Board of Supervisors Member Sharon Bulova. In 2007, she joined Walsh, Colucci, Lubeley & Walsh as an associate for the Land Use & Zoning practice group.
Sara was named a shareholder of the Firm in 2017. Since joining the Firm, she has been consistently recognized by her clients and peers and was rated AV® Preeminent™ by Martindale-Hubbell in both Legal Ability and Ethical Standards. She is experienced in all phases of the land use and development process in Northern Virginia and specializes in rezoning, special permit, special exception, and variance applications in Fairfax County, Arlington County, the City of Fairfax, the Town of Vienna, and the Town of Herndon. Sara has been instrumental in the approvals of mixed-use developments throughout Fairfax County with a particular emphasis on revitalization areas in southeastern Fairfax. In addition to her practice, Sara is active on the boards of Good Shepherd Housing and the Arlington YMCA. She is also actively involved with the Washington, D.C. Chapter of the Urban Land Institute and Leadership Fairfax.
Read this month's employee spotlight and get to know more about Sara!
The Land Lawyers: What made you consider a career in land use & zoning law?
Sara Mariska: When I was in middle school, Target wanted to locate a store in Burke, VA. It was a site that I was intimately familiar with given that I had to drive past it on my way to school. Although it was a by-right use, it was a big deal for the community. People wanted the business, but they also expressed concern about traffic impacts and site access. As a nerdy kid, I followed the drama with great interest. I could not have verbalized this at the time, but I enjoyed the mix of issues that were implicated: site design, road construction, traffic impacts, economic development, and community input. A few years later, I met Sharon Bulova after she gave a talk at my high school when she was Braddock District Supervisor in Fairfax County. When my parents tasked me with finding a summer job, I wrote Sharon a letter asking if she needed summer help in the office. As luck would have it, she did. I was able to observe and understand the County by working for Sharon for several years which further energized my desire to be involved in the land use process. I've been fortunate – I still love the interplay of issues that I found fascinating when I was younger and even better is getting to figure out how to balance those issues and reach successful outcomes. P.S. You know who handled that case for Target? None other than Lynne Strobel of Walsh Colucci. Small world.
TLL: You have been with The Land Lawyers almost 11 years now and have been quite involved and committed to Fairfax County particularly with Southeast Fairfax. How do you see this area growing in the future?
SM: I am excited to report that Fairfax County just completed a 2-year Comprehensive Plan amendment known as Embark Richmond Highway with an eye toward establishing Bus Rapid Transit (BRT) along the Richmond Highway Corridor and potentially a future extension of Metro's yellow line. Although I think it will take time for the vision of Embark to be a reality as well as a lot of compromise from stakeholders, I am excited about the prospects for the corridor to change and redevelop.
TLL: What major projects you are working on now?
SM: It is a busy time! Some of my major cases include a 33-acre development adjacent to the Innovation Metrorail Station that proposes a mix of residential unit types, offices, and retail in a walkable, transit-oriented development; a major residential and retail development in the Kamp Washington area of the City of Fairfax that will diversify the use mix in that area; and an affordable housing development in Arlington County.
TLL: You have a history of community involvement. Tell us about the Langley Residential Support Services.
SM: I recently left the board of Langley Residential Support Services, but I am excited about the work that they do in Fairfax County. Langley provides housing and support services for those with intellectual disabilities. It is a small organization, doing amazing things, with a limited budget. Non-profits like Langley are critical to ensuring that those with intellectual disabilities have nice homes and the support they need to live rich, fulfilling lives. I think everyone deserves that chance, especially those who are not able to advocate on their own behalf.
TLL: We hear you are an avid runner, do you have any big races coming up? Which race are you most proud of?
SM: I am currently considering a half marathon in Annapolis in June. I am proud to have completed 5 marathons, including 3 Marine Corps Marathons – my favorite race. It is a beautiful course in my favorite city. Side note, I often log my runs using an App and was recently told by an Arlington County Staffer that he really appreciates all my running routes because it gave him ideas for how to train for an upcoming race. Score!
TLL: Tell us more about your musical talents and involvement with the Fairfax Symphony Orchestra.
SM: I grew up playing both piano and viola and was fortunate enough to continue to do so in college and law school. My close friend from childhood and I continue to play together at local nursing homes and my sister and I play together when we can. I volunteered for the Fairfax Symphony after law school as a way of staying involved in the music world even though I have not had the time to devote to more serious playing.
TLL: Aside from practicing law, running marathons, and playing the viola — what other things do you like to do for fun?
SM: Cooking and entertaining. I love to cook and find it to be the best way to unwind at the end of a long day. The wine I consume as I cook does not hurt either. I got married in September and am fortunate that my husband loves to cook just as much as I do.
TLL: What part of the world would you most like to visit?
SM: East Asia. I am especially interested in traveling to Thailand, Japan, and Burma.
TLL: Why do you think Walsh, Colucci, Lubeley & Walsh is a great place to work?
SM: The ability to work with great people both inside and outside the firm.
TLL: Thank you, Sara!