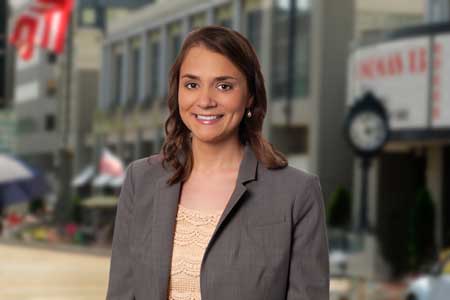 Jessica L. Pfeiffer
Land Use Planner
4310 Prince William Pkwy, Ste 300
Prince William, VA 22192-5199
703.680.4664 x5119
703.680.6067 (Fax)
jpfeiffer@thelandlawyers.com
Vcard
Jessica joined WCL&W in 2005 upon the completion of her graduate degree in Urban and Regional Planning from Virginia Tech. While earning her degree, Jessica interned at the City of Alexandria's Neighborhood Planning and Community Development Division, where she contributed to an Urban Land Institute Technical Assistance Report. She used this experience as a basis for her graduate major paper on the economic and physical sustainability of lifestyle centers in comparison with regional malls.
Since joining the firm, Jessica has gained extensive knowledge and experience in planning, zoning, and permit processes related to developing or redeveloping properties in Prince William, Stafford, and Fauquier Counties.
Representative Experience
Represented major developers in obtaining zoning, plan, and permit approval for multiple phases of large mixed-use projects.

Represented multiple religious institutions in working through cultural resource, transportation, and sewer concerns to obtain special-use permit approval.

Represented an applicant in obtaining special use permit approval for an environmentally sensitive carwash that planned to obtain LEED certification.

Represented a major retailer in the citizen outreach process and special use permit approval for additional signage.

Represented various owners and potential owners in obtaining zoning and proffer interpretations, determinations, and verification letters from Prince William County.

Provided background knowledge and coordination as a Design Review Committee Administrator for multiple large projects currently under development.
Professional Recognition
Virginia Chapter of the American Planning Association's Outstanding Graduate Student Award, 2004–05