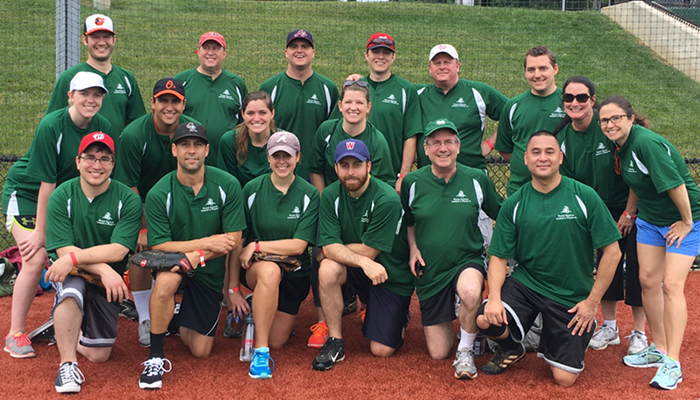 Another Mushball Tournament is in the books! Like last year, the Land Lawyers made a successful run at the championship. The team won all three games in their division beating Mayer Brown, Proskauer, and Buckley Sandler, which secured them the fourth overall seed in the playoffs. Unfortunately, the team fell in the semifinals to last year's nemesis and two-time defending champs Williams & Connolly. Some of the sting from loss went away though as we learned that PricewaterhouseCoopers beat Williams & Connolly in the finals.
This year's event was even grander with a D.J., food trucks (the Maine Lobster Roll truck was the big favorite), massage tent, open bar, and activities for kids. Even a few local celebrities, such as Grant Paulsen and Johnny "Cakes" Auville from 106.7 The Fan sports talk radio, were on hand.
20 law firms and other companies participated in the tournament and I am still in amazement at how well our team does considering we are facing companies much larger than ours, meaning they have more players to pick from.
Thank you to the following Mushball players for sacrificing their Saturday to the scalding hot sun and the Mushball Gods: Mark Goetzman, Ed Encarnacion, Matt Westover, Bill Fogarty, Bob Brant, Antonia Miller and husband Ben, Taylor Berry and boyfriend Nick, Kathleen Smith's husband Mark, Erin and Jeff Thiebert, Lorri Holland's husband Jim, Mike and Paula Romero, Stephen Hall, and summer associates Lauren Riley and Gabe Ibrahim.
Some highlights from the tournament:
• Matt W. crushing home runs at will. We stopped counting how many he hit.
• Mike R. doing his impersonation of a human vacuum cleaner at third base.
• Antonia punishing the mushball with line drives. Pretty sure she thought she was smashing tennis balls back in her college days.
• Bill Fogarty saving my arm from falling off by taking over at pitcher in the last game.
• Lauren, Taylor, and Erin anchoring the defense at catcher as well as making sure I pitched the ball correctly.
• Gabe, Stephen, and Matt A. securing the right side of the outfield
• Bob Brant gobbling everything thrown to him at first base.
• And Mark Goetzman with the hardest job of all: Manager. Mark motivated us with a pregame speech that went something like "WIN!!!! … or else you're all fired!!!!" (Okay so he didn't really say that.)
A special thanks to our awesome support team that came out to cheer us on: Lorri, Kathleen and the Smith kids, the Thiebert kids, Baby Brant, Baby Westover, and, last but not least, Taylor's puppy Atlas.
Can't wait till next year! Way to go, Land Lawyers Mushball Team!