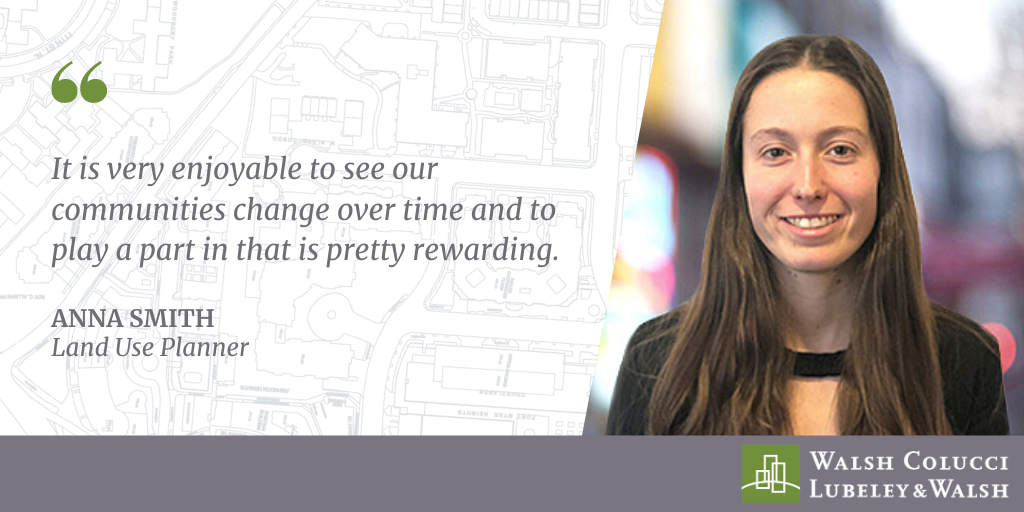 Anna Smith joined the firm as Land Use Planner for the Land Use & Zoning practice group in the Arlington office. Anna most recently worked as a Mount Vernon District Land Use Aide for the Fairfax County Board of Supervisors District Office where she analyzed development proposals with the District Supervisor, County Staff, Developers, Constituents, and other stakeholders to improve the quality of development decisions for communities in Fairfax County. She was also responsible for preparing and presenting data and concepts to constituents for outreach meetings and regular constituent communications; including GIS-based videos, and maps narrating the conditions of communities and neighborhoods. Anna obtained a Bachelor of Urban and Environmental Planning with a minor in Architecture from the University of Virginia.
In this month's employee spotlight we'll get to know more about Anna.
Tell us a little about yourself — where did you grow up? Where do you reside now?
I grew up in Fairfax County, and attended West Potomac High School in the Mount Vernon District! I am still living there now for the time being.
What's your favorite thing about working at Walsh, Colucci, Lubeley & Walsh?
Everyone at WCLW is so great to work with, and it's fun to work with people who are serious about doing their best work.
What is most rewarding about your role?
It is very enjoyable to see our communities change overtime and to play a part in that is pretty rewarding. I also think it's rewarding seeing the conflict resolution that happens along the way during a case, and how sometimes seemingly small decisions can have larger lasting impacts on people.
Who would you say has been a mentor to you and why?
I have been so lucky to work at a firm with so many great coworkers who have helped me in my first few months. There are too many excellent mentors to choose any single one!
What's something invaluable you've learned here?
The direct and pragmatic way that everyone at WCLW approaches their work has been a really interesting lesson for me in building consensus and dealing with people in general. This approach to conflict resolution is one of the reasons I wanted to work at WCLW, and has been valuable in so many aspects of my life.
How have the new social distancing measures impacted your day-to-day work life?
It has really been my first work-from-home experience, I don't think I ever really worked from home before this. It's different having to rely on phone calls and emails instead of popping into someone's office, although it is kind of exciting how well everyone has adapted to doing things virtually.
What do you look forward to the most post-pandemic?
I love going to movies and comedy shows, and while there are so many opportunities to watch stuff from home I am excited to be able to attend movies and live shows in person again.
We heard you have the cutest furry coworker, please tell us more about her.
Jameson is a sweet little corgi, she is about 2 and a half years old. Working from home with her has been such a treat! She has been enjoying all her extra walks, and time with her friends at home. It is really funny, some days she is very cranky and clearly just as bored/annoyed with lockdown as the rest of us humans!
What is your favorite show or book?
I am a big fan of Curb Your Enthusiasm and Breaking Bad. I don't know that I have a favorite book, although I really enjoyed Tales of a Shaman's Apprentice by Mark Plotkin. He founded the Amazon Conservation Team, and the book is about rainforest conservation.
Thank you so much for sharing Anna!