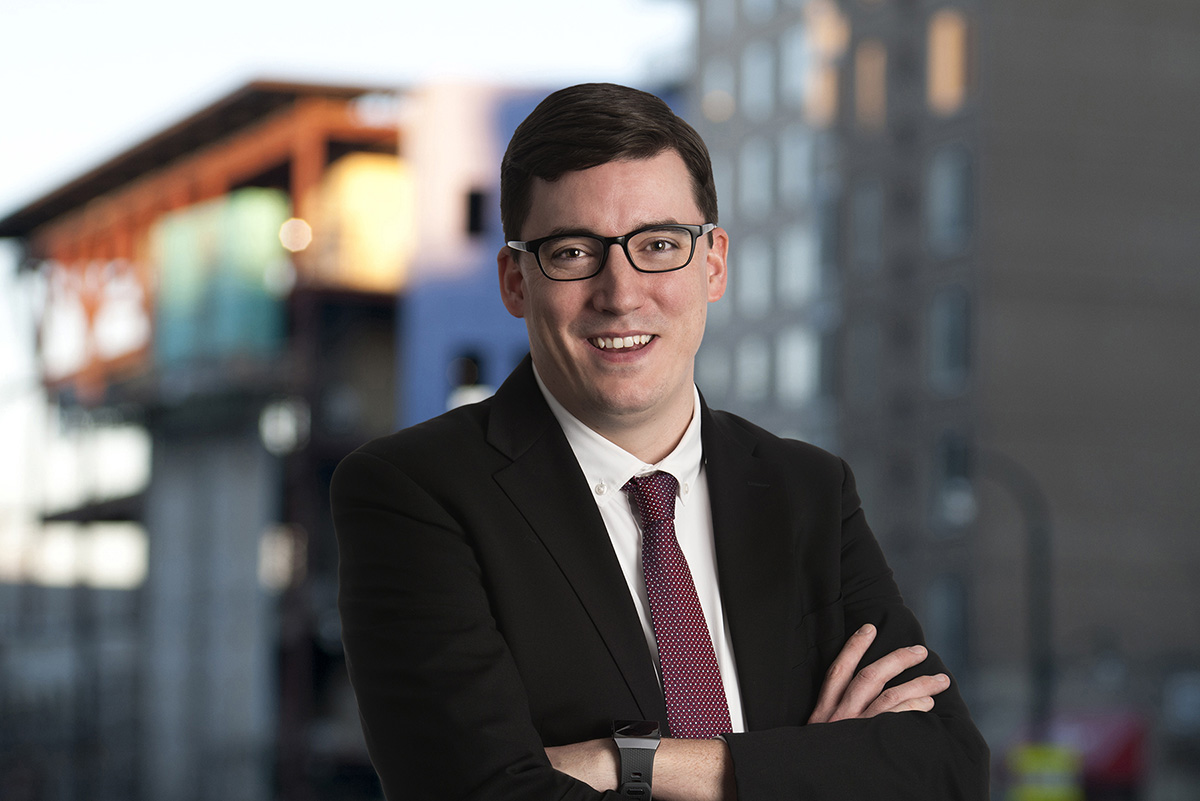 Matt Leslie joined the firm in 2019 as a Land Use Coordinator for the Land Use & Zoning practice group in the Loudoun office. Prior to joining Walsh Colucci, he worked as a Legislative Assistant to Representative Jennifer Wexton (VA-10) in the U.S. House of Representatives and as a Field Director for the Democratic Congressional Campaign Committee. Previously he worked for several years as the Chief Legislative Aide to Loudoun County Supervisor Koran T. Saines (Sterling District), where he managed constituent outreach, analyzed county budget items, and provided recommendations regarding pro-posed zoning and land use changes.
In this month's employee spotlight we'll get to know more about Matt, the newest addition to the Leesburg land use team.
Tell us a little about yourself Matt, where did you grow up? Where do you reside now?
I really consider myself a Virginian through and through but I was actually born in Houston, Texas because my dad was working for NASA at the time. My family and I moved to Newport News, VA when I was two years old, where we spent the next ten years before moving to Loudoun County with my family in 1999, where I have lived ever since. My parents still live in the house they bought in Sterling and I now live in Ashburn with my wife Jessica and our daughter Emilia.
What's your favorite thing about working at Walsh, Colucci, Lubeley & Walsh?
Working at our firm is definitely like joining a big family. I really enjoy the team atmosphere and the collaboration that occurs on all levels. Everyone that works here is super friendly and really goes out of their way to be inclusive.
What is most rewarding about your role?
I really enjoy the ability to have an impact on my community in a positive way. Development done right is always a positive in my opinion and I really enjoy the opportunity to go to work every day with a team of people dedicated to ensuring that the projects we are involved in live up to their highest potential.
Who would you say has been a good mentor to you and why?
I have been humbled by so many within the firm proactively reaching out, answering questions without hesitation, and ensuring I have all the tools I need to be successful, it is hard to pick just one. For me personally, Andrew Painter stands out in this respect, as someone who has gone out of their way to involve me in high level projects, and provide professional support in a way that I think is emblematic of the culture here and unique to the shareholders of our firm in general. Additionally, Mike Romeo is someone I have relied on a lot since I started here and is always willing to provide constructive feedback which I really appreciate.
What's something invaluable you've learned here?
This is not something that I necessarily learned here but is certainly something that has been reaffirmed while working here and that is people may not always remember what you did, but they will always remember how you made them feel. If you make the effort to treat people with kindness and respect, even if you don't agree with them (especially if you don't agree with them), there tends to be a return of that effort in spades, especially over time. Do your best to follow the golden rule and more often than not the result will be creating a network of people over time, who will always go that extra mile for you, or at least pick up the phone.
Favorite quote?
Just because you're in the driver's seat, doesn't mean you have to run people over.
What has been your go-to quarantine hobby?
Spending time with my now five month old daughter Emilia.
Favorite sports team?
I am a huge Washington Sports fan, but my favorite team is definitely the 2018 Stanley Cup Champion Washington Capitals. I grew up watching Peter Bondra and Olaf Kölzig "Olie the goalie" and am currently keeping my fingers crossed for a return to the ice sometime this year. Life is better with sports.
Do you have a favorite show or favorite book at the moment?
I love to read so it is really hard to pick one, but some of my favorite books are the ones written by Malcolm Gladwell. I do not really have a favorite show, but I am currently watching Money Heist on Netflix and even though it is dubbed from Spanish to English it is truly immersive and so far has had quite a few crazy twists and unexpected turns. The show utilizes the "unreliable narrator" which makes things very unpredictable which I enjoy.
Thank you so much for sharing, Matt!
If you would like to learn more about Matt, please view his Professional Profile.