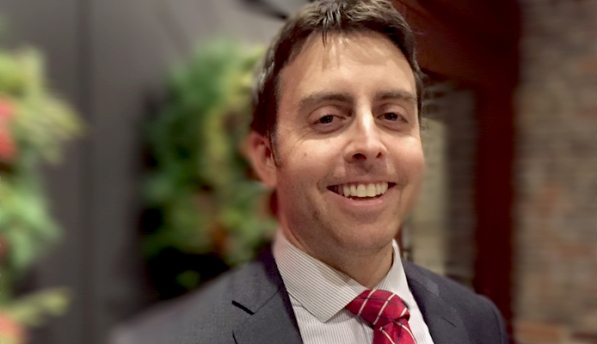 From an early age, middle school to be exact, Mike was a man with a plan … and more than a few schematics and diagrams. Most of them—cities and stadiums—were scribbled on the back and inside covers of his notebooks.  "I know my teachers and parents didn't always appreciate me drawing during class, but I certainly enjoyed it."
Even before he graduated from Appalachian State, Mike knew he wanted to pursue a master's degree in land use planning. During his junior and senior years at Appalachian, he served as the student representative on the Town of Boone Planning Commission and participated in a volunteer internship with the Fairfax County Department of Planning and Zoning. Those two experiences taught Mike the value and magnitude of a graduate degree in the planning field. He chose Clemson University to pursue a Master of City and Regional Planning degree because of the small class sizes and one-on-one interaction with his professors. "I couldn't have asked for better learning environments and opportunities than those provided by both schools."
In 2007, Mike moved back to Reston and lived there for seven years. For more than three years, he served on the Reston Planning and Zoning Committee, including two years as Vice Chairman and Chairman. Last year, Mike and his wife, Paula, moved to Herndon where he now serves as a member of the Town of Herndon Planning Commission. "I thoroughly enjoy my interaction with the members of these bodies and the ability to serve the locality in which I live. There are always opportunities to implement good planning practices and I hope to be able to continue to provide a positive influence on planning processes in the future."
Mike has been with Walsh, Colucci, Lubeley & Walsh since 2004. His knowledge of planning, involvement in the community and local government, and innate interest in land use and planning benefits the firm, our clients, and the areas we serve. Like most good planners, Mike had a back-up plan.
The Land Lawyers: What would you be doing if you weren't at Walsh, Colucci, Lubeley & Walsh?
Mike Romeo: If I weren't a land use planner, I'd be serving as a National Park Service Ranger.
TLL: What do you enjoy most about your job?
Mike Romeo: The most enjoyable aspect of my job is helping clients achieve their goals. Whether it's a large corporation or a small business, there's little that can replace the feeling of joy and satisfaction expressed by a client who has just received their necessary legislative approvals. Helping clients achieve their goals is our business and I take exceptional pride in providing the best client service possible.
TLL: You knew from a very early age this would be a rewarding career.
MR: Yes. One of the most rewarding aspects of this job is the ever-changing environment of land use planning and real estate development in Loudoun and Fairfax Counties. No matter which project I'm working on, there's always something that distinguishes it from other projects. The pace of growth in Northern Virginia is astounding. When I was growing up in Reston, we had to drive to the City of Fairfax or Tysons Corner for the majority of our retail and entertainment needs. Now, I don't need to venture more than two miles to find anything I could possibly need.
TLL: What are you working on these days?
MR: I'm working on a number of residential, commercial, and mixed-use projects in Loudoun and Fairfax Counties. The applications run the gamut from multi-generational residential projects to commercial rezonings and concept plan amendments to special exceptions for adaptive reuse projects.
In Loudoun County, the current Board of Supervisors has implemented a number of zoning ordinance amendments to encourage business development. Beginning in January 2016, five new members will join the Board. Current Board members have publicly indicated that amendments to the Revised General Plan could be forthcoming during the Board's next term. Loudoun County is at a crossroads. Based on current zoning, there is less than a decade's worth of single-family lot supply in the County to meet the estimated demand. According to the Metropolitan Council of Governments, the County's population is projected to grow from 367,957 in 2015 to 484,498 by 2040. There is simply not enough land that is properly planned or zoned in the eastern portion of the County to accommodate this level of growth. It remains to be seen how the next Board will approach land development, but there could be some significant Revised General Plan amendments proposed to address the new land development realities facing the County.
TLL: Back in middle school, when you were drafting stadium plans, did you have a sports team in mind?
MR: I'm a long suffering D.C. sports fan. Having grown up in this area, I've developed an affinity for all of the local professional sports teams. I was a Caps season ticket holder for nine years and I regularly attend Nats games. I have a passion for college football, in particular, Appalachian State, Clemson, and Navy. There's nothing quite like tailgating on a beautiful fall Saturday in anticipation of a matchup on the gridiron.
TLL: What do you like to do in your spare time?
MR: I play a range of sports throughout the year to stay active. The ones I most enjoy are flag football, floor hockey, basketball, and softball. When I'm at home, I enjoy spending time with my wife and two dogs, reading, in particular historical novels and biographies, and working outdoors in the yard. When I'm outside of the area, I enjoy backpacking, skiing, and visiting various cities and sites throughout the United States and abroad.
TLL: What part of the world, or universe, would you most like to visit?
MR: I have no interest in leaving this planet, so I would say a trip to New Zealand is high on my list of places to visit.