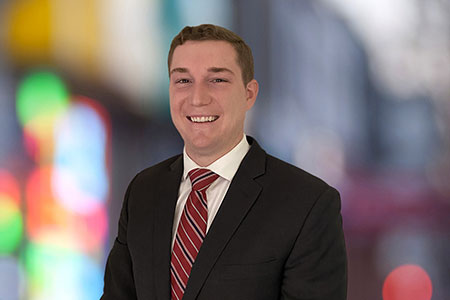 William "Will" Gibson rejoined the firm in September 2020 as a Transactions Associate for the Prince William office. Will graduated from The Catholic University of America, Columbus School of Law where he was the Note and Comment Editor for The Catholic University Law Review. In the summer of 2019, Will first joined the firm as a Summer Associate where he was able to gain valuable experience in real estate law. Will's practice includes the preparation and negotiation of purchase and sale contracts, leases, and subdivision and easement deeds; as well as assisting clients in the formation and governance of all types of business entities.
Thank you for participating in this month's Employee Spotlight, Will! Tell us a little about yourself — where did you grow up?
I grew up in Charlottesville, VA. My parents live about 20 minutes from the entrance to the Shenandoah National Park, so we spent a lot of time hiking and in nature. I also went to a lot of UVA basketball games growing up so watching them win the National Championship last year was pretty exciting!
What did you think you wanted to be when you were younger?
I'm not entirely sure if I asked a younger me what I would have said. I spent a lot of time playing backyard sports with my neighborhood friends, but also enjoyed reading and loved my history classes in school. I suppose my interest in reading combined with my competitiveness in backyard football/basketball lent itself well to a career as an advocate!
What interested you about the legal field, specifically real estate law?​ What aspect of your role do you enjoy the most? ​
I went into law school with a fairly open mind about what field of law I wanted to practice in. In my first year I excelled in my contracts and property courses and began to think real estate might be a match. Given that my grandfather was an architect and my dad recently retired from a general contracting practice, I think I was predisposed to have an interest in this area of law. What I enjoy most, so far, is immersing myself in a project and learning from the other attorneys along the way. The attorneys here have a great expanse of knowledge, and I look forward to emulating the manner in which they can identify all of a client's needs and help them achieve their goal.
How did you learn about Walsh, Colucci, Lubeley & Walsh?
I first learned about the firm from on campus interviewing during the start of my second year of law school. Mike Coughlin and Bob Brant interviewed me at Catholic University and I knew from the initial interview that Walsh, Colucci, Lubeley & Walsh was where I wanted to work. The interview was shortly after the Mushball championship as well, so the spiritedness of everyone at the firm when I went to follow up interviews gave me an idea of how great of a culture exists here.
Who would you consider a mentor at the Prince William office and why?
Dave Bomgardner has taught me a lot and has brought me in on a mix of projects that are helping me gain new knowledge and sharpen my practice. It is certainly a little different not having everyone in the office, but really I feel like I can knock on anyone's door or call anyone's extension and they will walk me through a project or answer a question.
Before working at firm, what was the most unusual or interesting job you've ever had?​
My first summer in college I was a cashier at the popular fast food chain Cook Out. As part of the training I had to memorize the menu (which is quite extensive if you've seen it) as well as all of the "call outs" you had to shout back to the kitchen staff ("tray dog" for a hotdog on the side for example). After a few weeks I also had the prices of popular orders memorized. My friends used to get a kick out of coming up with orders and having me tell them how much it would cost and what I would have to yell to the back.
Aside from a very busy schedule and being the newest addition to the Land Lawyers Mushball team, what do you like to do for fun outside of work?
Since the pandemic started, the W&OD and local Arlington trails have seen a huge increase in traffic. My wife, daughter and I used to frequent the trails for walks and bike rides. Now, we like to load up the stroller and a picnic cooler in the car and go explore trails all over the northern portion of Virginia. One of the neat things about being in the Prince William office is there are a lot of great places in the county that I've learned about since working here. We've walked around Bristoe Station Battlefield and Manassas Battlefield and we've also gone out to Front Royal and Winchester to explore their parks and trails as well. Virginia overall, and Prince William County in particular, is a really beautiful area with mountains, rivers, and beaches and communities built around all the different terrains.
What's the one thing about you few people know?
Most people in the office right now know that my wife and I are expecting our second child at any moment. But aside from my own growing family, I come from a pretty large extended family: I have 3 older siblings, 5 nephews and 2 nieces, and am one of 19 cousins between my family's two sides (with ages ranging from 8-39)!
Why do you think Walsh, Colucci, Lubeley & Walsh is a great place to work?
The people. Coming from a large family, the feel of the firm is just that.
Thank you for sharing with us, Will. Welcome back to the firm! 
10/1/20 Update: Will's bundle of joy was born on 9/30/20! Congratulations to the Gibson family!