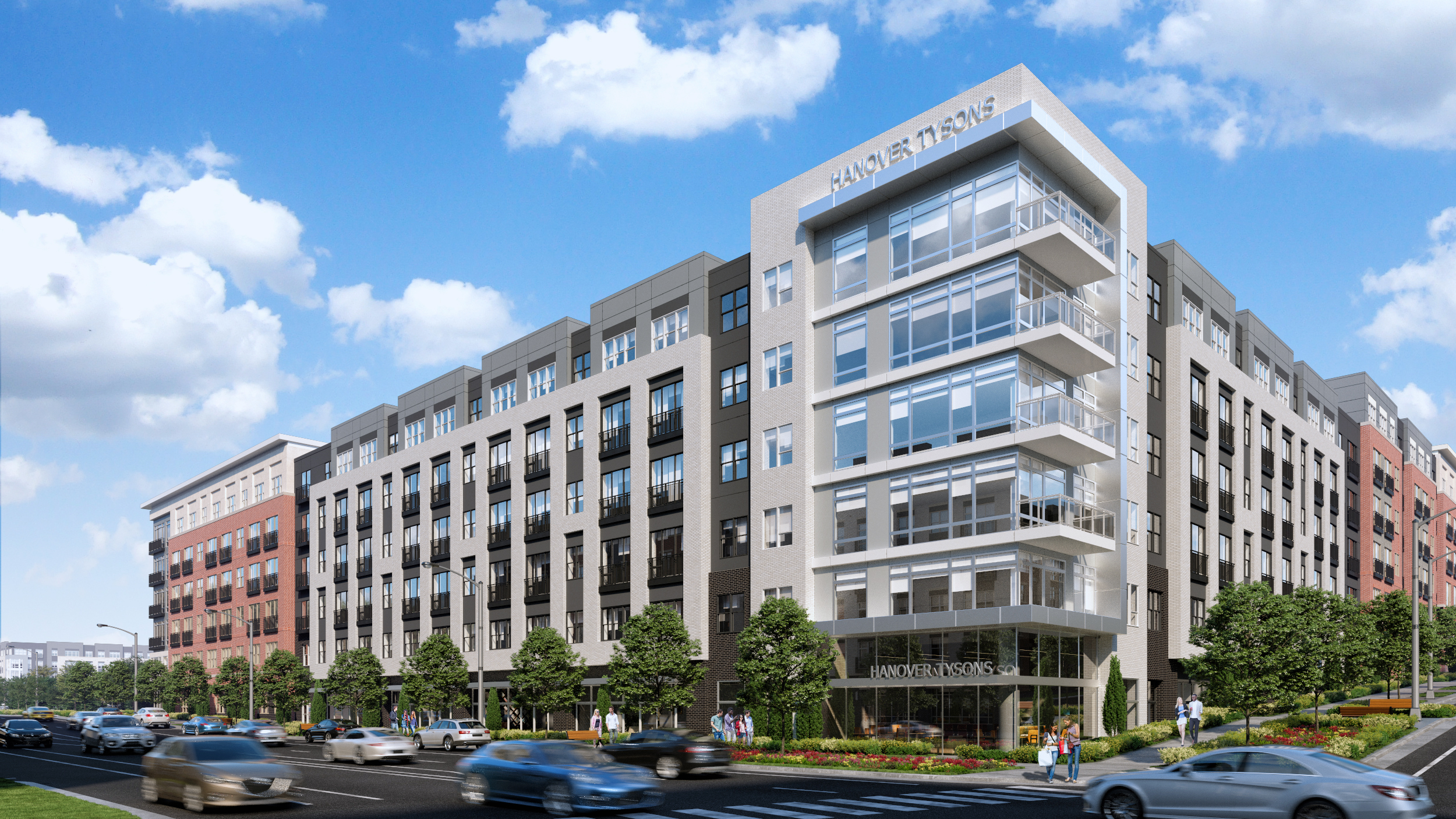 On March 19, the Fairfax County Board of Supervisors unanimously approved a new residential mixed-use project known as "Hanover Tysons" at the intersection of Jones Branch Drive and Westbranch Drive in Tysons.  The site was once part of the expansive West*Park office campus and is developed with a vacant office building and surface parking. With the adoption of the new Tysons Plan in 2010, Fairfax County re-planned the site and the surrounding area for predominately residential area at a FAR of 1.50.  Senior Land Use Planner Elizabeth Baker led the development team through the approval process.
The approval permits the developer, The Hanover Company, to redevelop the 5.8 acre site with a mixed use building with 420 multi-family dwelling units and up to 5,700 square feet of retail space on the ground floor. Up to seven stories in height, the building features a wrapped parking deck and an interior amenity courtyard. The designation of twenty percent of the units as workforce housing keeps with Fairfax County's goal of more affordable housing in the rapidly transforming Tysons area, and provided Hanover with twenty percent bonus in intensity, bringing the approved FAR to 1.80.
As with any Tysons proposal, street grid improvements were a key element of the proposal. These upgrades include a new collector street on the western boundary with on-street parking and bike lanes. In the future, this street will be extended to provide a new point of access to the Dulles Toll Road.
Public park space is always a principle element in any Tysons rezoning.  Fairfax County has established urban park standards based on an expected resident and employee population. Essentially 400 multi-family units generate the need for one acre of publically accessible park space. The Hanover Company plans include a one acre public park along its southern boundary. This provides an opportunity for a future athletic field in the space if adjacent property redevelops and adds to the park space. This aspect of the development impressed the Board members who were seeking a creative park proposal.