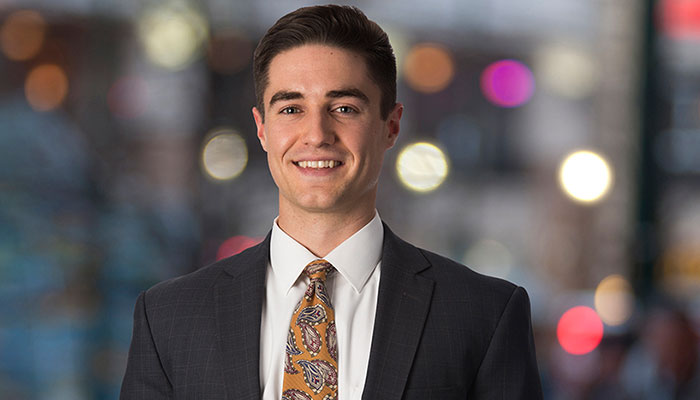 John C. "Jack" Morgan joined the Firm in 2017 and primarily works in the Real Estate Transactions and Commercial Business Transactions practice groups. His practice includes the preparation of documents for the acquisition, finance, sale, and development of real property, in addition to subdivision deeds, easement deeds, and other related development documents. Jack also assists clients in the formation and governance of corporations, partnerships, and limited liability companies. Prior to joining the Firm, Jack was a law clerk for the Honorable Steven S. Smith at the Prince William County Circuit Court, an experience that provided him a strong foundation for solving problems and communicating results.
Read this month's employee spotlight and get to know more about Jack!
The Land Lawyers: Happy New Year, Jack! We're excited to learn more about you. Tell us about yourself — where did you grow up? Do you have any siblings? 
Jack Morgan: I grew up in Fauquier County and I have a large extended family of siblings: a half-brother in Colorado, a stepbrother in Arizona, one stepbrother and two stepsisters here in Virginia, and a "full" sister in California. We all grew up together, and have gone our separate ways since, but we still keep in touch and see each other when we can.
TLL: What did you think you wanted to be when you were younger?
JM: When I was younger I spent my summers, school breaks, and weekends working in the elements with my step-dad, who is an electrician. As much as I enjoyed the experience, and learned a great deal about working with my hands, I decided that electrical work was not my calling. I set my sights on being an attorney, like my dad, at a relatively young age.
TLL: What interested you about the legal field?
JM: I planned to keep my options open when I went away to college, but I knew after my freshman year that I wanted to go to law school after graduation. By far my favorite classes that year were political science and philosophy, and I wanted to study what I enjoyed. A little research into my career options revealed my best choice was to get decent grades in those two subjects and aim for law school. I saw law school as a way to ride out the economy's downturn and stay mentally engaged in my future.
TLL: What do you like most about being part of the Land Lawyers team?

JM: So far I have enjoyed working with everyone here. I think there is a good balance between focusing on productivity and building professional relationships. Everyone at the office is easy to approach with questions, and everyone's opinions count. This group is as collegial as they come, and I am glad to be a part of it.

TLL: What aspect of your role do you enjoy the most?
JM: My favorite part of this job is the amount of writing I do. Whether I'm drafting or editing purchase contracts, leases, operating agreements, amendments to operating agreements, or the like, I love getting into the weeds on nuanced issues and coming up with solutions to make things more efficient for our clients. I have learned a lot since I joined the firm, and I feel fortunate to be learning this skill from some of the best in the business.

TLL: Aside from a very busy schedule, what do you like to do for fun?
JM: My favorite thing to do is go to the gym before work. Spending an hour or two early in the morning preparing myself for the day ahead increases my energy level, so I can hit the ground running when I arrive at work. It allows me to focus on something that is not work related, and makes me feel like I have a work-life balance, which overall I find increases my motivation and productivity throughout the day.
TLL: Where's the best place you've traveled to, and why?
JM: I have enjoyed traveling to Europe, Canada, the Virgin Islands, and all around the U.S. My favorite trips are when my entire family is able to get together in one location. This past summer we all went to Palm Springs out of convenience to my West Coast/Midwest siblings. We were in the middle of a desert. It reached 115° by mid-afternoon which was too hot to be outside, even in the pool! But it was a great time because all six siblings on my dad's side were there. 
TLL: What is next on your travel list?
JM: I've also done some traveling on my own, such as a trip to Germany right before law school. If I could choose, my next backpacking trip would be somewhere in Asia. I like being out of my element, and I think Asia would provide that type of experience.
TLL: What is your favorite show right now?
JM: My favorite show of all time is "Game of Thrones." I only began watching it after I took the bar exam in the summer of 2016. For months following the test, I literally spent hours lying on my couch every weekend watching it from beginning to end. I needed that time to decompress, and it provided an excellent outlet. Right now I have been watching the show "Suits" on Netflix, which is about transactional attorneys in New York. It is pretty exciting and usually legally accurate, although I can't help but speak up whenever the legal references are incorrect.
TLL: Thank you, Jack!