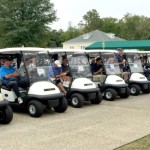 For the past 18 years, rain or shine, Art Walsh has hosted a golf outing dedicated to the memory of his late brother, John Walsh, who was diagnosed with type 1 juvenile diabetes at the age of 5. This year, along with emcee Steve Buckhantz, Art welcomed golfers to Westwood Country Club in Vienna to remember John and close family friend Jean Marie Wenk, and to raise money for T1D research. JDRF is the leading global funder of T1D research whose mission is to find a cure for the disease.
The course was in great shape as the golfers hit the links to play the best-ball tournament. Prizes were set for men's and women's longest drives, closest to the pin, and the team with the overall lowest score. Jack Taylor's Alexandria Toyota was at the ready to give away a new Camry to any player who aced the 6th hole. Storm clouds threatened rain for most of the day but even when the skies made good on their promise, no one walked off the course. Or won the car. The event ended in a downpour but the atmosphere inside, at the reception and dinner that followed in the Club's ballroom overlooking the 18th hole, was warm and dry.
Washington Wizards play-by-play TV announcer Steve Buckhantz was the evening's emcee and auctioneer. Art and Steve awarded prizes that ranged from an iPad and Nats tickets to restaurant gift cards and rounds of golf at local private courses. Thereafter, Steve put the first auction item up for bid. The competition was friendly, if not fierce, as players and guests in the room bid against colleagues, tablemates, and teammates. Among the auction items was a three-night stay in a golf villa at The Homestead, a Masters flag signed by Fred Couples, and six tickets to the Washington vs. Dallas football game (including limo transportation). With the raffle prizes awarded and auction items sold, there was one last gift to present and that was to JDRF. This year, the event raised $75,500 for T1D research bringing the total the outing has raised over the past 18 years to more than $1.1 million.
On Art's behalf we'd like to thank our clients, friends, and family who participated in this year's event and donated generously to JDRF. Online donations to JDRF can be made through the end of this year via the Walsh, Colucci, Lubeley & Walsh fundraising webpage. Contributions are 100% tax-deductible. To learn more about T1D, visit jdrf.org. To view and download team pictures, scroll down to view the images below and right-click on the image. You can also visit our Twitter page to view more pictures taken during the event.