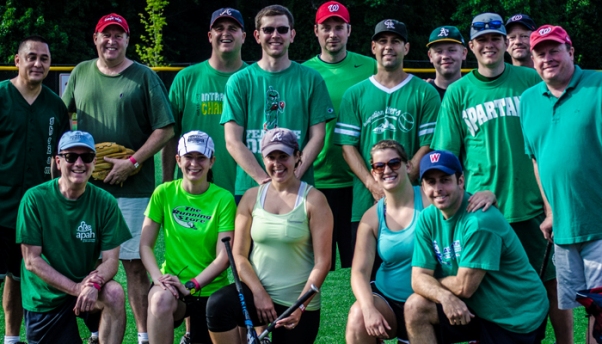 "Do you believe in miracles?" was the famous saying when the 1980 U.S. hockey team beat Russia. And it was almost the case on Saturday, June 25, when The Land Lawyers took to the field at the 2016 Legal Mushball Classic to benefit the Washington Nationals Youth Baseball Academy.
Under sunny skies, The Land Lawyers defeated Akin Gump (7-3), Hogan Lovells (11-3), Mayer Brown (10-1), and Proskauer Rose (8-4) on their march to the Championship Game. Unfortunately, in a close game, defending champions Williams & Connolly clinched the title, beating The Land Lawyers by two runs (6-4).
Placing second in a tournament of 21 firms much larger than ours was a great accomplishment, especially considering the tournament lasted an incredible 12 hours. It wasn't difficult to keep the day's momentum going. Matt Westover and Mike Romeo did their best impression of the Bash Brothers hitting five home runs each. Antonia Miller, playing a mean second base, drove in the division-clinching game run. Bill Fogarty made an incredible diving stop at first base—a truly SportsCenter-worthy game highlight. Catchers Amy Friedlander and Erin Thiebert anchored the defense at home plate as well as getting base hits. Sam Irvin consistently hit line drives to drive in runs. The team's pitcher, Ed Encarnacion, was stellar on the mound, preventing runs by fielding his position spectacularly. Mark Goetzman provided spot-on managing and pre-game speeches that inspired the team to victory. Congratulations are due to the whole team, which consisted of firm employees, spouses, significant others, and children.
As much as we are proud of our second-place finish, we are even more proud of the level of sportsmanship our team demonstrated all through the tournament, which did not go unnoticed. The umpires and tournament staff commended The Land Lawyers on our sportsmanship and how we played the game right. We will definitely be invited back next year! Please visit PuzzleGirl065's photo gallery on Flickr to see photos from our fantastic day.
WAY TO GO, TEAM LAND LAWYERS!