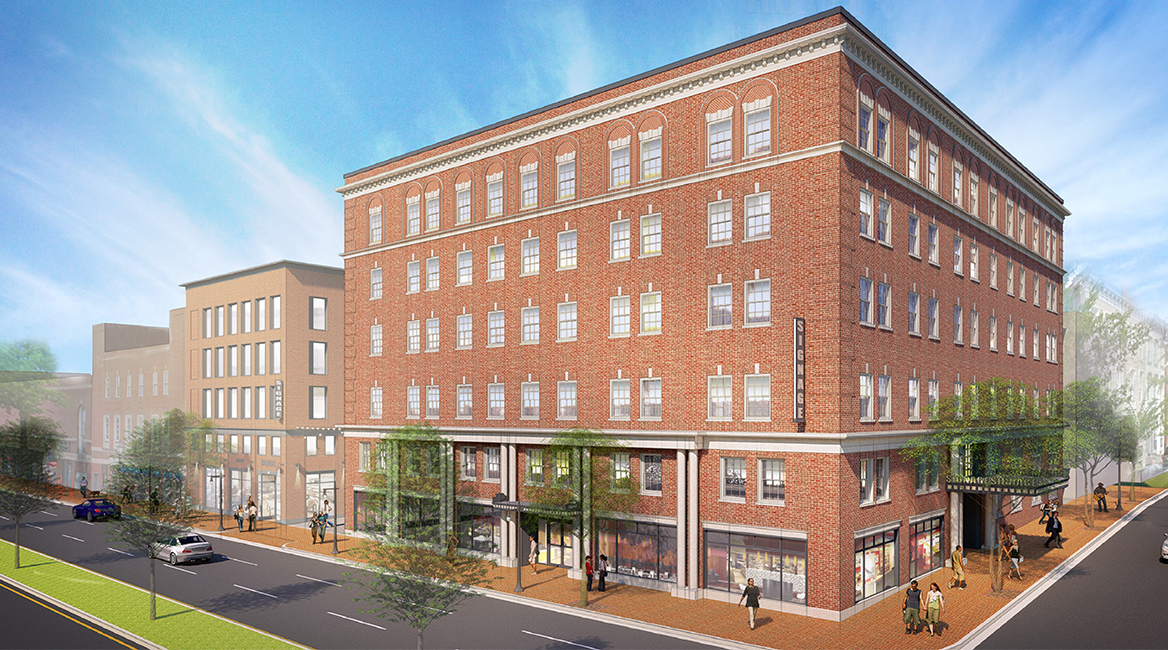 This fall, the Alexandria team received two exciting approvals from City Council – a 141-room hotel conversion in Old Town and a 332-unit senior living facility in Potomac Yard.
699 Prince Street Hotel
When May Riegler Properties purchased the building at 699 Prince Street last year, they had a vision to restore the beautiful six-story historic building back to a hotel. Originally built in the 1920s as the George Mason Hotel, the building had been converted to office use in the 1970s and an above-grade parking structure was constructed next to the building to serve the office use. In September, the City Council unanimously approved the proposed hotel project, including the conversion of the existing building and a four-story hotel building to replace the existing parking structure. The elimination of the parking structure, the construction of a new hotel building that meets the standards for development along the George Washington Memorial Parkway, and the restoration of the existing building will be a big win for historic preservation and economic development in Alexandria. The new hotel, to be operated by Aparium, will feature an activated alley with a pedestrian-friendly "mews" feel, an elegant ballroom space, a ground floor restaurant, and a rooftop bar and event space. From the roof, patrons will be able to look out over Old Town Alexandria and the waterfront, offering unparalleled views of the Potomac River and Washington, DC.
The development team included architects from Antunovich, engineers from Bowman Consulting, landscape architects from Studio39, and traffic consultants from Gorove/Slade.
Landbay H-West – 2601 Main Line Boulevard
The growing demand for senior living facilities doesn't seem to be letting up any time soon. The developer for this exciting project, Silverstone Senior Living, has experience delivering high-quality senior living facilities in Northern Virginia and across the country, and is now expanding their portfolio in Alexandria's Potomac Yard.
Located on a vacant two-acre site along Route 1 that was formerly designated for office, the proposed senior living facility will contain approximately 186 assisted living/memory care units and a 12,000 square foot pharmacy in the south building and 146 independent living units in the north building. This senior living facility further diversifies the mix of office, residential, and retail uses planned for Potomac Yard, and the new buildings will provide amenities and services for residents across the continuum of care. Several courtyards and outdoor terrace spaces will allow access to green space for the public and residents, including a wander garden specifically designed for memory care residents. Additionally, the project includes seven dedicated deeply affordable units for low-income seniors.
The development team included architects from Perkins Eastman, engineers from Bowman Consulting, landscape architects from ParkerRodriguez, and traffic consultants from Wells & Associates.