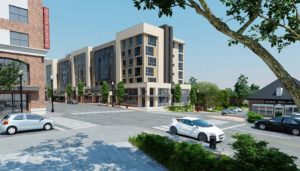 On June 18, the Arlington County Board voted unanimously to approve a special exception use permit for a new mixed-use building at 2400 Columbia Pike, pursuant to the Columbia Pike Commercial Centers Form Based Code.
Located at the corner of Columbia Pike and South Barton Street, the site of the approved building is currently home to Rappahannock Coffee and other neighborhood retailers. Under the Form Based Code, the existing buildings on the site are designated as "historic façades." Cathy Puskar assisted the firm's client and its design team with developing a plan that incorporated the historic façades into the new building envelope and securing approval of the preservation plan by the Historic Affairs and Landmark Review Board.
The new six-story building will contain 105 market-rate residential units, approximately 14,700 square feet of ground floor retail, and two levels of below-grade parking. The unique architectural design of the building is specifically intended to accentuate the historic façades, which will be preserved, and to create a welcoming pedestrian environment. In combination with the Penrose Square and Siena Park developments across the street, the new building at 2400 Columbia Pike will contribute to a greatly enhanced walkable, mixed-use, urban corridor on the eastern end of Columbia Pike.
Cathy is currently representing additional Commercial Centers and Neighborhoods Form Based Code developments along Columbia Pike.