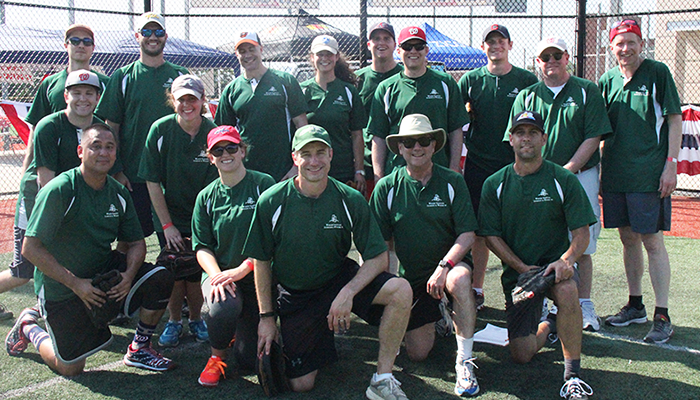 On June 16 at the Washington Nationals Youth Baseball Academy complex, 24 law firms battled it out for the long sought-after Mushball Classic Trophy.
This all-time fan favorite event supports the Academy's mission "to use baseball and softball to support the academic success, health, and character development of children growing up in some of D.C.'s most underserved communities." This year's tournament raised more than $165,000.
The LandLawyers started with a perfect record in regular season games, defeating Hogan Lovells, Kelley Drye, and Akin Gump in pool play. In the three years the Firm has participated in the tournament, they have gone 9-0 in pool play. Additionally, as a third seed in the playoffs, they defeated the sixth seed, Katten, in the quarterfinals. Then, in the semifinals, they defeated Price Waterhouse Coopers. In the finals, however, the team was thrown for a loop as they faced a team from Zuckerman Spaeder that included about four former college baseball players and most likely two former college softball players. While the LandLawyers put up a tough fight, the team from Zuckerman Spaeder managed to beat them after a long, grueling game. Considering the type of players and talent Zuckerman Spaeder had, it was still a great day for the LandLawyers.
All in all, it was quite an exciting Saturday, with the LandLawyers winning a total of five games in a row, only losing one game to the arguably semi-pro team from Zuckerman Spaeder. Considering almost all the teams were from bigger firms (with larger pools of potential players), the LandLawyers really dominated the field. It was a true team effort, with a blend of veterans and rookies, and rock-solid Coach Mark Goetzman pulling all the right levers and figuring out all the right strategies.
A special thanks to all of the players (Ed Encarnacion, Matt Westover, Antonia Miller & Ben Wengerd, Mark Smith, Mike Coughlin, Dave Bomgardner, Bob Brant, Caroline Herre, Reed Stadler, Jack Goetzman, Mike & Paula Romeo, Bill Fogarty, and Coach Goetzman) who dedicated their Saturday to mushball and for wowing the crowds with their impeccable talent. Even greater thanks to Madison and Avery Smith who demonstrated some never-before-seen talent through their speed. While the LandLawyers conquered most of the field, they more importantly played like a team. Every year, they are showered with compliments from the Youth Academy Staff on how well they play together and the great sportsmanship they always bring to the field.