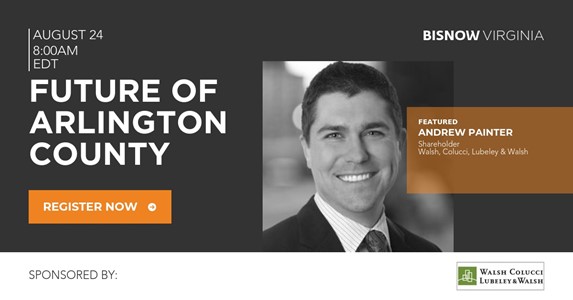 What You'll Learn at the Future of Arlington County 

Missing Middle Housing Bill: What does the single-family-only zoning ban, which goes into effect July 1, mean for the county in terms of the housing crisis as well as the expansion of neighborhoods?
Why are new residents, tenants and businesses being drawn to neighborhoods like Ballston, Clarendon, Rosslyn, National Landing and others? How are developers and investors selecting neighborhoods for their projects? What factors are being considered?
What is in store for Arlington's mixed-use development pipeline in terms of bringing in multifamily, retail and other projects? What are current resident and tenant demands and how are developers meeting them while staying within budget?
How are the challenges of the economic downturn impacting construction and development within NoVa? What solutions have developers and investors come up with to overcome these obstacles?
How does the county compare to other areas within D.C. and Virginia? What is the area doing differently to stand out from other counties and cities?

How You'll Do More Commercial Real Estate Business in the Virginia Region: 

As of 2023, Arlington County has a population of 234,000 and continues to grow. As residential developments increase, Virginia has 70% of Committed Affordable Units that are in the planning stages, including Rosslyn-Ballston, Richmond Highway and Columbia Pike. How will the area's new initiatives and bills benefit Arlington County in terms of affordability, the housing crisis, development and more? How does the region plan to keep up with demand and supply? Join Arlington executives as they discuss their latest project pipeline, economic growth, top neighborhoods, overcoming challenges and more!