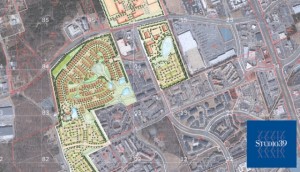 On November 17, 2015, the Prince William County Board of Supervisors approved the Blackburn project, a plan that promises to transform the Balls Ford Road/Ashton Avenue corridors located in the Gainesville District of the County.
On behalf of the applicant, Shareholder Jay du Von and Land Use Planner Marian Harders presented a robust proffer package that included $10- to $12 million in transportation improvements, more than $6 million school contributions, 1 million square feet of Class A office space (which will be visible from I-66), a $50,000 monetary contribution for economic and business development along the I-66 corridor, and numerous recreational amenities that include an on-site community recreation facility with 25 meter pool, on-site natural surface trail system plus the construction of an off-site full size turf soccer field to be located in Ellis Barron Park.
The Blackburn project area encompasses 128 acres and is designed to accommodate 160 single family homes and 255 townhomes, 115,000 square feet of retail and, as noted above, 1 million square feet of class A office space.  Members of the entitlement team included Charlie and Richard Kieler with Kettler, Ryan David and Tyler Cockrell with Urban, Ltd, Joe Plumpe and Adam Nicholson with Studio 39, and Will Johnson with Wells and Associates.