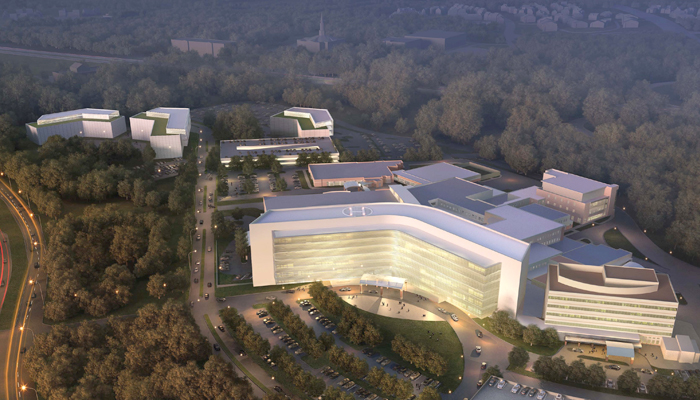 Last month, at the first business meeting of the year, the Loudoun County Board of Supervisors approved a rezoning and special exception application that will facilitate the continued expansion of Inova Loudoun Hospital. The approved rezoning will enable Inova Loudoun Hospital to realize the full potential of its zoning density on the 88-acre property.
A total of 1,585,584 square feet, including up to 1,238,000 square feet of hospital uses, can now be developed on the property. Given the layered history of zoning actions and density provisions that apply to the property, complex discussions and negotiations with Loudoun County staff and the Lansdowne Conservancy were necessary to accommodate the rezoning.
The approved special exception allows for acceleration of the many ancillary items to be developed in advance of previously approved timing provisions. The creation of a preliminary phase as part of this special exception approval will enable the immediate development of areas including a new loading dock, materials management area, kitchen expansion, generator enclosure and utility structures, and expansion of the linear accelerator totaling up to 56,000 square feet.
The approval of these applications will facilitate the ongoing expansion of Inova Loudoun Hospital in line with its expansion schedule and will accommodate significant future expansions as the hospital continues its transformation into a tertiary care hospital serving the residents of Loudoun County.