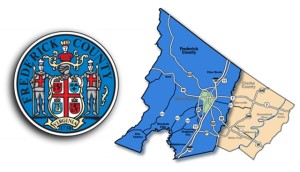 The Frederick County Board of Supervisors voted January 27 to approve a major proffer condition amendment for the Crosspointe Center development located in the Shawnee Magisterial District, adjacent to Interstate 81 at the Exit 310 Interchange.
These changes were a consequence of an agreement among Glaize, Inc. (the owner and developer of Crosspointe), VDOT, and the County, whereby the reconstruction of the 310 Interchange was deemed to have satisfied previous proffered road improvements necessary to the commencement of the site's development. The proffer amendment affects approximately 132 acres of the project's nearly 600 acres, and constitutes a major adjustment of the location of commercial and residential land bays. The commercially zoned portion of the development has increased to permit 1,088,000 square feet with greater visibility from Interstate 81. The residential component consists of 1,578 market-rate homes, with the ability to include a substantial component of age-restricted housing.
John is no stranger to land use in Frederick and Winchester. He has been working in these jurisdictions for more than 25 years. In addition to Crosspointe, on whose original zoning he labored in 2004, John handled the first major land use plan amendment for what is known as Lake Frederick (perhaps the single largest zoning in the County), the rezoning of an historically sensitive property known as Star Fort, the rezoning of the Artrip Property for the Abramson Companies, and projects for Equus Capital Properties.