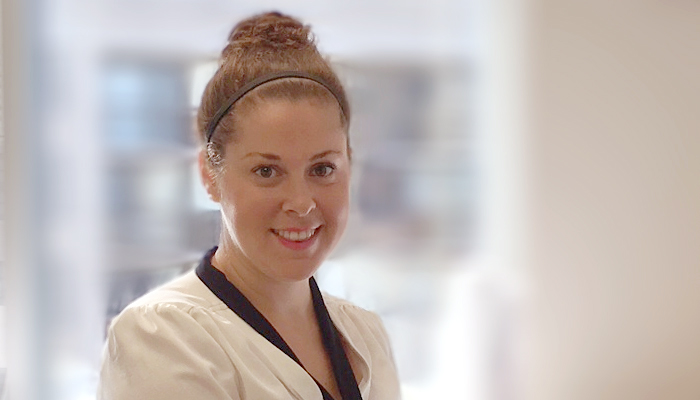 It wasn't until Antonia Miller spent a summer working with The Land Lawyers that she realized her interest in real estate transactions and commercial business transactions was like solving complex puzzles. She admits she was fortunate to have found a fitting and agreeable career opportunity and today is grateful to be cultivating her Midwestern values in her Northern Virginia backyard.
The Land Lawyers: You work in the Real Estate Transactions and Commercial Business Transactions practice group in Arlington. What got you interested in this field of law and when did you realize that it would be your career?
Antonia Miller: If you had asked me in law school, I would have honestly said I had no idea what a Real Estate Transactions and Commercial Business Transactions attorney did, but I was fortunate enough to have the opportunity to work as a summer associate with Walsh, Colucci, Lubeley & Walsh. During my summer with the firm, I realized that the Transactions team was a great fit for me, both personally and professionally. It may not be for everyone, but I really enjoy the challenge of drafting a complex agreement. To me it is like a puzzle. I love that no two deals are ever the same and that we are always problem solving and coming up with creative solutions to help our clients address the unique development challenges they face.
TLL: What do you enjoy most about your work?
AM: I cannot say enough good things about our clients and their influence on today's landscape in the DMV. It is very rewarding to know that I was even a small part of some of their beautiful and beneficial projects. I truly value the opportunity to be part of the team that helps their vision for a new development become reality.
TLL: You are a Power Lunch Reading Mentor with Everybody Wins!DC and a volunteer court-appointed special advocate with the CASA program. Tell us about your role as a reading mentor and the work you do with CASA.
AM: I just started the Power Lunch Reading Mentor Program this past winter and for 50 minutes every other week I have the privilege of turning my attention from reviewing and drafting contracts and complex development agreements to reading Fly Guy and Berenstein Bears. I think I look forward to it more than my mentee does. The CASA program allows me to appear before judges in Arlington and Alexandria and advocate for the best interest of vulnerable children and families in the community. I like to joke that even though I am an attorney, I am only ever in court through my volunteer work. What I really value about my involvement with both programs is that they give me an opportunity to interact with members of my community I might not otherwise get a chance to meet in my work life or personal life.
TLL: Virginia's Land Sense, the firm's monthly newsletter, will debut a new column in this issue. Can you tell us about it?
AM: There are so many members of our firm who are leaders in our community and are involved with so many great programs and organizations. I wanted to give them a chance to be recognized for their involvement and educate others about various opportunities to get involved in the community. Walsh Colucci encourages its attorneys to be involved because it recognizes the value of having attorneys that are well-rounded people who make time to give back and engage with their community.
TLL: When you are not working on contracts and closings, reading to students, or writing about The Land Lawyers work in the community, how do you like to spend your spare time?
AM: I am a huge sports fan. I also have a love/hate relationship with running. My husband and I also recently bought a house so on a nice day you can probably find me doing some yard work. I think it is the Midwesterner in me!
TLL: What's your favorite meal?
AM: My grandmother's homemade pasta and pasta sauce. It was a tradition in our family to always have a bowl of pasta at Thanksgiving sitting right next to the turkey. No one ever went hungry!
TLL: Why do you think Walsh, Colucci, Lubeley & Walsh is a great place to work?
AM: The people. Not just our wonderful clients, but also the attorneys, paralegals, and staff. What initially attracted me to the firm was that I knew employees stayed for the long term. I knew I wanted a firm that allowed people to grow and develop and made them want to stay, and I am glad to report that is exactly what I have found here at Walsh Colucci. My family lives in the Midwest so I am lucky to have so many co-workers that have become like family to me.
TLL: Thank you, Antonia!