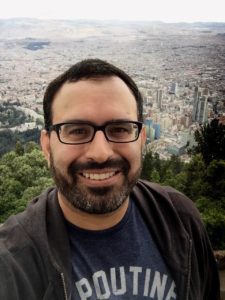 In this month's Employee Spotlight, we will learn more about the newest addition to the Arlington land use team, Bernard Suchicital.
Bernard "Bernie" Suchicital joined the firm in January as a Land Use Planner in the Arlington office. Prior to joining the firm, he worked as a Senior Land Use Planner with the Planning Division in the Fairfax County Department of Planning & Zoning. With over 14 years of planning experience in the public sector, Bernie served as a community liaison for the county and stakeholder groups, conducted land use planning research, managed the county's community outreach process to analyze and review comprehensive land use changes, and prepared land use recommendations, staff reports, and public hearing items. Bernie holds a Bachelor's degree in Public & Urban Affairs from Virginia Tech.
Thank you for participating in this month's Employee Spotlight, Bernie! Tell us a little about yourself — where did you grow up?
I grew up kind of all over the place. Some folks refer to themselves as a "military brat;" I call myself a "university brat." My parents immigrated to the States from Brazil a few months before my twin brother and I were born in Champaign, Illinois. The long 10-hour flight next to smoking Argentinians (as my mom recalls) was made so that my dad could work on his PhD at the University of Illinois. My elementary school years were spent playing in corn fields, escaping tornados, eating cheese curds, building giant snow forts that would last the whole of winter, and gaining a love affair for Holstein-Friesian cows. My middle school years found my family in Phoenix, Arizona where my dad was doing research at Arizona State University. Word to the wise: the jumping cactus is a real thing, and black widow spiders are the most frightening 4+ appendage creature around. Two weeks before starting high school, we packed up our bags and moved to Blacksburg, Virginia where, you guessed it, my dad can still be found teaching and conducting research at Virginia Tech. I remained in this town that sits on a plateau, in the mountains, next to a river that flows to the north for 10 years before moving to Winchester, Virginia to kick-off my professional planning career as a zoning inspector for Frederick County.
What did you think you wanted to be when you were younger?
Honestly? For the longest time I wanted to be a bus driver. Not a school bus driver (I don't have that level of patience), but a city bus driver. My family didn't have a car for the longest time, so the few times my mom took us out (my brother and I were escape artists) it would be by bus. I gained an early appreciation to this giant of the streets, admiring its sleek lines, clean and quiet interior (compared to the school bus), and how it took me through neighborhoods I seldom visited. My childhood dream of driving a 40-foot long bus finally came true during my sophomore year at Virginia Tech when I responded to an ad in the student paper for part-time bus drivers for Blacksburg Transit. If you're looking for proof, my old work ID badge is on display in my office.
What interested you about the planning field?
I get to play God with people's land. What got me interested in planning was while growing up, I always watched and observed life and neighborhoods unlike my own unfold before my eyes as we passed through on old or unfamiliar streets. My parents didn't have the time or resources to take us to many places. So I solved the poor kid's way of traveling by studying the road atlas to the point of memorization, and I eagerly thumbed through the latest National Geographic Magazine for articles on cities and distant lands. Later in life, I became excited about learning how to change the urban fabric of the community, and how it could potentially better the lives of those who lived/worked there. These days, when asked, I explain to my friends that my job is essentially a mash-up of the game Sim City and the show Parks & Recreation, and now with Ally McBeal mixed in too.
What aspect of your role do you enjoy the most?
Getting to leave my fingerprint in the built environment for generations to come. But mostly being able to engage all of the stakeholders involved to come up with a better vision of tomorrow.
Are you involved with any organizations?
I was involved with WAKA (World Adult Kickball Association) for the first six years here in DC. But life's responsibilities eventually took hold. So I put away my red rubber balls, flip cup tournament trophies, and emergency office hangover kits in exchange for endless night meetings with the villagers.
Aside from a very busy schedule, what do you do for fun?
I enjoy discovering new wineries, breweries, rooftop bars, and interesting restaurants. I spend a good bit of time with my friends and their kids, a.k.a. my munchkin army. I also spend a good bit of time fantasizing and planning out vacation trips abroad. Anthony Bourdain is my spirit animal.
Name a travel destination you enjoyed the most, and why?
I've been to too many places to pick just one. I would say the best beach town I have ever been to is Trindade, southwest of Rio de Janeiro in Brazil. After a 40-minute hike down from the main highway will find you in a beautifully secluded village hemmed in with steep tropical forest mountains on one side, and multiple small bays with clean beaches, natural swimming pools, and water slides through caves carved out by mountain streams. I stayed at an awesome crunchy granola hippie hostel above the village, operated by a friendly couple from Montreal.
The most beautiful place I could have ever gotten pneumonia was somewhere on the far northern coastline of Scotland. This is where I also discovered a new love with the Highland Cattle.
Best wine experiences were in Porto, Portugal, and Santiago, Chile.
What's the one thing about you few people know?
Compared to my identical twin brother, I am the cute one.
Words to live by — what are yours?
Eat well, and travel often.
Why do you think Walsh, Colucci, Lubeley & Walsh is a great place to work?
I was told that there would be weekly free Taco Tuesdays provided by the office. I'm eagerly waiting for this to happen. Until then, I really enjoy that this office has a family-like atmosphere here. Everyone is always out to make sure that we're all doing a great job.
Thank you, Bernie!