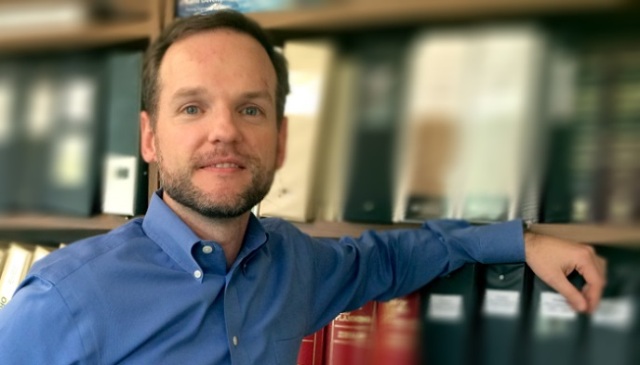 Growing up in Woodstock, Virginia, in the 1980s, Chuck was certain of three things: the nearest town to go shopping was Winchester, 30 miles away; he would either become a doctor or a lawyer; and no matter where he went to college or established his career, he would always return to his roots.
Once he decided to pursue a career in law, Chuck's toughest decision was what practice area to focus on. He had always been interested in real estate development, finance and business matters so after graduating from Hampden-Sydney with a B.A., in Political Science, Chuck decided to take a few accounting classes. He graduated from George Mason University's School of Management in 2004, earning a B.S. in Accounting and soon after passed the CPA exam. He continued on, and in 2007, he earned a J.D. from George Mason University School of Law. But that was not enough for Chuck. This past year, he earned an LL.M (Masters of Laws) in Taxation from Georgetown University, graduating with honors and distinction. Today, Chuck leads the firm's tax, trust & estates practice out of the firm's Winchester office, and divides his time between the Prince William, Leesburg and Arlington offices.
We talked to Chuck this month and asked him to tell us more about his practice, what other degrees he is planning to earn, and when, if ever, does he sleep.
The Land Lawyers: Your degree in accounting proved to be an essential component to your legal practice. Did you ever consider practicing as a CPA?
Chuck McWilliams:  Yes, I actually practiced in public accounting for a while and was a staff accountant with Beers & Cutler, PLLC (now Baker Tilly) where I provided tax, audit, and advisory services for large law firms, accounting firms, and professional groups all over the United States. After law school, I became an associate at Owen and Truban, PLC, where I focused on complex estate, tax, business, corporate, and advisory matters. My local client base consisted of high-net-worth individuals, small businesses, farms, and charities in the Shenandoah Valley. It was the right decision because it applied to both disciplines and my expertise.  In 2005 through 2007, I had clerked for The Land Lawyers; five years later they offered me a position. The opportunity allowed me to establish the firm's Estate Planning practice, and to open a fourth office in Winchester. Although I do a lot more driving these days, it was a great decision.
TLL: Since joining The Land Lawyers, you earned an LL.M and a Certificate in Real Estate Planning from Georgetown University, and were recently admitted to practice in the U.S. Tax Court, and you were admitted to the District of Columbia Bar and the West Virginia Bar. Do you sleep?
CMW: I don't, but that's not the reason why. My wife and I just welcomed our first baby, a daughter, born on February 15.
TLL: Babies will do that. Tell us more about the firm's Estate Planning practice group.
CMW: I get the privilege of having a diverse practice and working with a wide variety of folks – from small to large business owners, entrepreneurs, farmers, doctors, engineers, and individuals concerned about their financial future– it's never the same from one day to the next, which is part of what I love about the practice.  Though much of my work does focus on estate, tax and wealth planning, another large segment of my practice involves setting up new businesses, helping those businesses expand, improving their operations, and eventually selling or otherwise transitioning the businesses to other family members.
TLL: Outside of your practice, you conduct education courses for accounting firms, banks, and investment companies and their clients.
CMW: Yes, in fact I'm working on a class for the Trust Department at a large regional bank right now.  The goal of that class will be two-fold.  First, we'll discuss and develop ways our clients can plan for uncertain economic times; and second, we'll discuss some popular succession planning tools that can help their clients transition their business to the next generation in a tax-efficient manner before the IRS (or a new President) eliminates those options.
TLL: You've written a number of articles for Virginia's Land Sense, and were recently awarded an honorable mention in the 2015 Mary Moers Wenig Student Writing Competition. Is it possible to tell us about your paper, "Constitutional Challenges to State Taxation of Non-Grantor Trusts" in a paragraph?
CMW:  As our society becomes more mobile the issue of when a trust is subject to taxation at the state level becomes very important.  For some of my larger clients – at least the ones that are not tied down to a physical business with significant hard assets – there are some great planning opportunities available.  I'm oversimplifying this a little bit, but imagine if you could set up an irrevocable trust in Florida, fund the trust with investment assets (a stock portfolio, for example), and have that trust be taxed as a resident of Florida – which has no state income tax – while you get to live in Virginia or some other state.  A Virginia resident would avoid 5.75% in taxes on the income earned by those assets. That's a huge savings when the trust has significant income! As you might expect, some states don't appreciate this maneuver; my article focuses on where this strategy works, where it doesn't, and what states attempt to block these transactions in ways that may be subject to Constitutional challenges.
TLL: You have written and presented on basic estate planning in the community. Where can our subscribers catch your next presentation or find your articles?
CMW:  Well, I don't have any public presentations scheduled at the moment, but I'm happy to meet with individuals, groups and even communities as a whole to discuss their planning needs. In the past I've done presentations for retirement communities, churches, private schools, museums, and for numerous banks.  If you are interested in having me speak with your group, send me an email.
TLL: You keep yourself busy and on top of the latest regulations. What do you do for fun?
CMW: Now that I have a young daughter, I spend most of my free time playing with her and taking her on walks (well, I walk, she rides in the stroller). She's also been the youngest person in attendance at four steeplechase races this year, and her mother expects her to be on a pony by this time next year, but I'm not encouraging that one. Otherwise, I'm usually skiing during the winter or fishing during the summer, and I also spend time working with several local charities.  I recently worked on the fundraising committee for the Valley Health Cancer Center Campaign, and I've also joined the Board of Directors for the Lord Fairfax Community College Foundation.  In fact, I'll spend much of tonight meeting scholarship applicants and listening to their presentations to determine who will get a year of free tuition thanks to one of the school's generous donors.
TLL: Is there any place in the world, or universe, you would most like to visit?
CMW:  Though I've done quite a bit of traveling, there are a few places still on my bucket list.  I would love to see the Aurora Borealis, so my wife and I are hoping to plan to trip to Iceland in the next few years.  I also want to spend some time in South America –Patagonia in particular – and after those trips are out of the way I really want to head back to Hawaii to explore the rest of the islands.  If I'm lucky I'll catch a snow fall at the peak of Mauna Kea and get to be one of the few people who have actually skied in Hawaii.  I tried that a couple years ago and though it was quite cold up there the snow did not cooperate.
TLL: What's the best thing about becoming a dad?
CMW:  Everything. It's been an amazing experience thus far, and I'm amazed every day by how much my wife is able to accomplish while caring for our daughter.  Though it's a little scary, I really look forward to my daughter becoming more mobile so we can get out of the house and do more together, and I am hopeful those first words will come soon too!
TLL: What's your favorite meal?
CMW:  I hate to say it, but anything involving carbs.  Pizza, pasta, corn, rice – most anything unhealthy, although I do love a good salad from time to time.
TLL: Why do you think Walsh, Colucci, Lubeley & Walsh is a great place to work?
CMW:  The firm has the best atmosphere of anywhere I've ever worked. Everyone is friendly and gets along great. It is genuinely a big group of nice, intelligent people – any of whom I would be happy to hang out with outside of work – who are all happy to help if you have questions or simply want to bounce an idea off them.
TLL: Thank you Chuck.