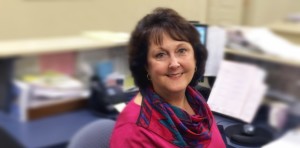 Eileen grew up across the river in Montgomery County and moved to Virginia after graduating from Miami University in Ohio. She planned on pursuing a career in education, but in the late 1970s there were few schools hiring home economics teachers. Eileen returned home, moved to Virginia, and landed a job in retail where she met her husband. They settled in Prince William County and Eileen applied for a job at a law firm. Neither a shareholder nor a Land Lawyer at that point, Jay du Von hired Eileen as his legal assistant. When Jay made the move to Walsh, Colucci, Lubeley & Walsh, he brought Eileen with him. "She is the only assistant I have worked with for the past 30 years," said Jay. "She's that good! She has incredible patience and is an asset to the firm."
When she's not in the office, Eileen spends quality time with family and friends. She enjoys taking walks and reading and is a great cook. Her favorite pastimes are visiting historical sites and wineries, going to the beach, and attending community events. Eileen also loves to garden but adds this disclaimer: "I don't have the greenest thumb." We asked Eileen to tell us a bit more about herself. Here's what she said.
The Land Lawyers: You've worked for Walsh, Colucci, Lubeley & Walsh for a long time and have known Jay even longer.
Eileen Evans: Yes, my twentieth anniversary with the firm is coming up in March. I still work with Jay, but I also work for Mike Lubeley and Marian Harders and am the office manager of the firm's Prince William office.
TLL: I'd say you've cultivated some very long-term relationships then. What keeps you motivated?
EE: The possibility of learning something new each day.
TLL: Do you have a most memorable moment with the firm?
EE: There is always something interesting going on case-wise in our office. It's hard to pick one in particular.
TLL: Do you have the opportunity to interact with clients during the day and, if so, how?
EE: I do. I have a lot of interaction with the staff from the Counties and Cities where we work because I coordinate the calendars and schedules for Jay, Mike, and Marian. I have direct contact with our clients, who are very busy people and extremely important to us.
TLL: If you could do anything in the world, what would it be?
EE: I'd love to be a professional student!
TLL: What's your favorite sports team?
EE: The Redskins, despite their trials and tribulations.
TLL: What are your favorite things?
EE: My cats are probably my favorite things. They rule the Evans house!
TLL: If you could travel anywhere in the world (or universe) where would you go?
EE: First on my list is Ireland. My husband and I plan to go sometime soon. Italy is a close second.
TLL: Who do you admire most?
EE: The one person I admire most is Abraham Lincoln, but I also truly admire all of the women who have broken barriers and fought for equality, access to education, and a better life for themselves and their families. Their stories amaze and inspire me.
TLL: Do you have a favorite song?
EE: I am a bit old-school so I love musicals. My all-time favorite song is "People" from "Funny Girl."
TLL: Why do you think Walsh, Colucci, Lubeley & Walsh is a great place to work?
EE: It is rather cliché. It's because of our clients and my co-workers. These are great people to be around! Everyone in the office cares about doing a great job for our clients and understands that by working together we produce the results our clients expect. And, it's pretty cool to look around Prince William County and see how the work we do has had such a positive effect on the development of this County.
TLL: This may sound cliché as well, but I'd say your career with The Land Lawyers has flourished along with the firm. Congratulations, Eileen!