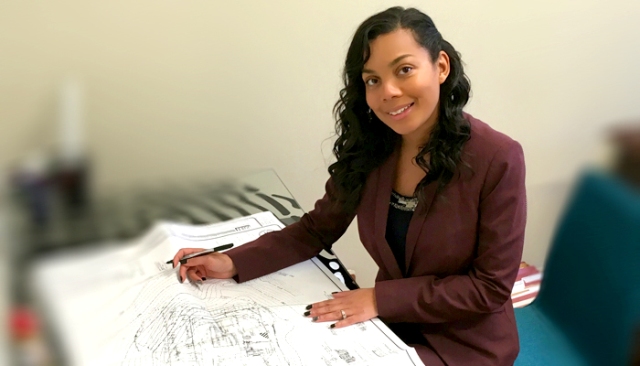 Average was not a word in her vocabulary growing up. "I decided I wanted to become an attorney when I was 12," says Jonelle, "and my mother did everything in her power to make sure I was successful." Encouraged to leave her small New England town when it came time for college, Jonelle set out for the nation's capital and a career in real estate law.
The Land Lawyers: Your mom encouraged you not to apply to any state schools?
Jonelle Cameron: That's right. I was born and raised in a small town in Massachusetts and my mom wanted me to pursue my dream of becoming a lawyer. She gently nudged me out of the nest (and state) because she knew it would broaden my horizons.
TLL: You graduated magna cum laude from Howard University and earned your J.D. at The George Washington University School of Law. If you weren't practicing law, what would you be doing?
JC: I thought I wanted to be a marine biologist but in the 7th grade I went on a whale watching trip and was seasick the entire time. That ended that career option.
TLL: How did you decide to become an attorney?
JC: One afternoon after school, I was at home watching Oprah with my grandmother. The show was about children who were abused by their parents. I remember one girl specifically. Her parents had kept her locked inside a dog cage and they received minimal sentencing after being found guilty of child abuse. I looked at my grandmother and told her I wanted to be an advocate for children like the girl on TV. Up until my first year of law school that was my goal. After I took family law, I realized how hard it would be to keep my emotions in check. At that point, I wasn't sure what I wanted to do. In fact, I had taken a class in Property Law and wasn't sure I liked that either.
TLL: What changed your mind?
JC: I believe that everything happens for a reason and God puts you in certain places at the perfect time. I had an internship at a law firm where the partner I was working with served as general counsel for a variety of restaurants in the D.C. area. I really enjoyed the work and that's when I knew I wanted to focus on real estate. I also did an externship at the District of Columbia Housing Authority which reinforced my interest and gave me hands-on experience with land use.
TLL: How long have you been with Walsh, Colucci, Lubeley & Walsh, P.C.?
JC: I have been with the firm a little over two years. When I first met with Lou Haley, the firm administrator, he gave me a tour of the Arlington office and introduced me to the staff and shareholders. When we got to Nan Walsh's office I could see a number of cranes and construction projects from her window. Lou pointed out the projects, and there were many, that Nan had gotten approved.
TLL: Why do you think Walsh, Colucci, Lubeley & Walsh is a great place to work?
JC: I work on a number of developments in Prince William County. Today, just like when I first started, when I drive around with my family I find myself pointing out the projects that either I or someone in the office is working on or has received approval for. I know that the work I do has a positive impact on the future of Prince William County and Northern Virginia. The plans and projects our firm is involved with have a positive influence on the community and shape the future of the region. Right now, I am working on a variety of cases ranging from religious institutions to a gas station.
TLL: Is Prince William County definitely home now?
JC: It's where I call home now, but I was born and raised in Massachusetts and I will always be a New England Patriots fan. Last year, during the Super Bowl, my husband and I hosted a party and I was completely outnumbered. After the last play of the game, I was literally jumping for joy. My husband had to remind me I wasn't a kid anymore and was not allowed to jump on the furniture.
TLL: Do you have a hero? Heroine?
JC: Absolutely, my mom. It may be cliché but she is. She had me at a young age and always encouraged me to do my best. She believed in my dreams.
TLL: What do you do in your spare time?
JC: What is spare time? I used to hate going to the gym, but my 9-year-old participates in every sport possible so when I can get there I have found it's a great stress reliever and I really enjoy it.
TLL: If you could travel anywhere in the world (or universe) where would you go?
JC: Tahiti.
TLL: Do you have a favorite meal?
JC: I am a foodie. I love food! I shouldn't need any help with this one, but it is a hard decision. I guess it would be Fettuccini Alfredo with shrimp and broccoli.
TLL: There is definitely nothing average about your accomplishments. Thank you, Jonelle.