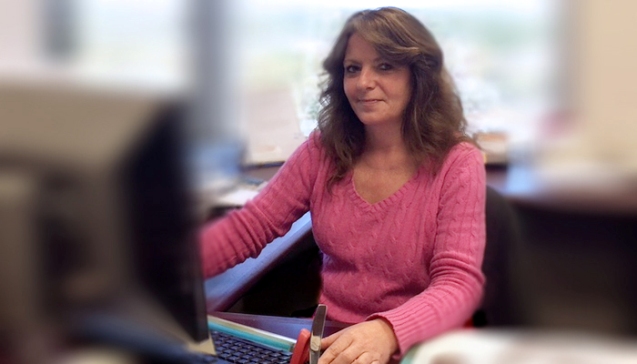 She has only ever lived in Northern Virginia but, as a young girl, Kelly had her sights set on Hollywood. It was her grandmother, though, who planted her family's roots in Virginia and directed Kelly to a more practical career path.
Kelly's grandmother worked as a legal secretary for Simmons and Colburn, just across the street from the firm's Arlington office where Jerry's Subs now stands. Kelly, the firm's billing coordinator, works with our attorneys and clients, and manages the day-to-day accounting, reporting, and billing. She learned about the job opening not from her grandmother, but from Jennifer Trumble, a friend for more than 20 years.
The Land Lawyers: How long have you been with The Land Lawyers, Kelly?
Kelly Pelletier: I have worked for the firm for more than 15 years. I learned about the position from Jennifer and asked if I could interview. The rest, as they say, is history. Before I came to Walsh Colucci, I worked in the billing department at a towing company for four years. That was an adventure. In the towing industry, most of our clients weren't calling with billing questions. They were pretty angry with me for towing their cars!
TLL: The firm recently rolled out an electronic billing system. How is that going?
KP: It's going really well. We converted to a completely new billing system this past November. There have been some struggles—mostly getting familiar with the differences from our old system to the new one—but all in all, it has been relatively smooth. Everyone has been very patient with us since we basically had to relearn how we do everything. This system has made the many facets of the billing process much more efficient for us and that has allowed us to provide better, faster service to our clients. We are still learning new things every day, but it was definitely the time and the right choice. The improvements allow me to do my job more efficiently, and that's best for our clients, too.
TLL: Aside from knowing a lot about bookkeeping, you know a lot about social media, especially Twitter. The premise is that you have to be clever in 140 characters or less, right?
KP: I have been on Twitter since 2009. I really didn't know much about it, but thought I'd give it a try. Some people are clever in 140 characters, but some people will just tweet things like, "I wish I had a donut." I like Twitter because I get a lot of information quickly. I follow newscasters and traffic reporters, but find Twitter especially helpful during football games. I have been a Redskins fan all my life. I follow the sportscasters that Tweet live from the sidelines at the games. That allows me to get information about injuries, penalties, fouls, and touchdowns immediately so that I can retweet it, sometimes before it's announced on TV.
TLL: How many Twitter followers do you have?
KP: Right now, 1,213. It's not terribly hard to gain followers. It helps if you understand "Twitter etiquette"—follow back the people who follow you. Almost all of my followers are Redskins fans, but I do have one "celebrity" follower: former Redskins tight end Rick "Doc" Walker. Of course, I also follow @thelandlawyers.
TLL: We don't need to ask, then, who your favorite team is.
KP: Definitely not. I have been a Redskins fan the majority of my life. I remember as a child playing at my grandmother's house on Sundays with my whole family yelling and cheering during football games. The Redskins have always been a part of my life.
TLL: How do you think the Redskins will do this year?
KP: Hmmmm. I am cautiously optimistic.
TLL: What part of the world, or universe, would you most like to visit?
KP: I have always loved the beach. I have been going to Nags Head with my family since I was a baby. It's a tradition that I have carried on with my son. I would really love to visit Turks and Caicos. One of these days I'll get there.
TLL: What do you like to do in your spare time?
KP: Obviously, I love watching football. I also really enjoy spending time with my family and friends, walking my dog, listening to music, and playing darts.
TLL: Do you have a hero or heroine?
KP: I don't really have a hero or heroine, but I do admire my grandmother and mother for being strong women and great role models. Tom Solak, the firm's administrator until he retired, continues to be a good friend and is one of the most genuine and kind people I know. And there is someone in the public eye that I can't leave out: Joe Gibbs, for taking the Redskins to eight playoffs, four NFC Championship titles, and three Super Bowls.
TLL: What's your favorite meal?
KP: Anyone who knows me knows that I am quite a picky eater. Whenever I go out to lunch with co-workers, they know their choice of restaurants is limited. My tastes are just simple; filet mignon, baked potato, and salad.
TLL: Why do you think Walsh, Colucci, Lubeley & Walsh is a great place to work?
KP: It's a great place to work for many reasons! It may sound cliché, but it's the people. They are a huge reason why it's a great place. It's evident, too, because many of the employees have worked here for years and that makes it feel like family. Everyone pitches in to help when help is needed and that allows us to provide our clients with the best service around.
TLL: Thanks, Kelly.