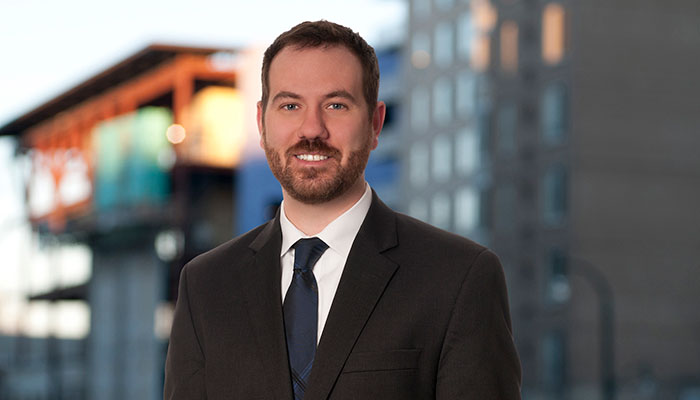 A native of Fairfax County, Michael currently resides in the greater Herndon area. He graduated from Virginia Tech with a degree in finance and thereafter matriculated to Seton Hall University's School of Law. After law school, Michael obtained a position as a law clerk to Judge LeRoy Millette of the Circuit Court of Prince William County. As clerk to Judge Millette, he was exposed to the inner workings of the court system and was given the daily opportunity to witness trial presentations and oral arguments. Michael believes this experience was invaluable in his career as an attorney as it provided an immediate education of practical legal knowledge.
In 2007, at the conclusion of his clerkship, Michael was offered a position at Walsh Colucci where associate attorneys are given the immediate opportunity to work directly with clients and have a meaningful effect on litigation matters. Since joining the firm, Michael has worked primarily with the firm's litigation, business dispute resolution, and commercial transaction practice groups representing businesses, non-profit organizations, and individuals. Michael has representative experience with commercial and complex litigation in the state and federal courts of Virginia, general corporate representation, construction disputes, real estate, zoning and other real property disputes, and transactional work. In January 2014, Michael was named a Shareholder of the firm.
The Land Lawyers: Are you from this area? And if not, where did you grow up?
Michael Kalish: I was born in Alexandria and raised in McLean. I went to McLean High School. Aside from three years at law school in New Jersey, I've always lived in Virginia.
TLL: What interested you about the legal field?
MK: I never really thought about law school until I took a business law class as part of my course work at Virginia Tech. That was my first exposure to reading actual case opinions and writing argument briefs in support of a position. I enjoyed the research and writing component and the argument presentation required by that class. I figured that if law school was anything like that course, then it was something I was interested in pursuing.
TLL: Are you involved in any community organizations?
MK: I currently serve as pro bono counsel and a director on the Prince William County Chamber of Commerce's Board of Directors. I also a volunteer as a t-ball coach for my kids' youth league teams.
TLL: You work primarily with the firm's litigation, business dispute resolution, and commercial transaction practice groups. Explain what type of issues you handle.
MK: Many, if not all, of the matters I work on involve some aspect of a property rights or contractual claim, or assisting individuals and businesses avoid them. Attorneys with litigation experience have the benefit of imagining the worst-case scenario in many circumstances. I try to apply that experience to the transactional matters I assist with as well. With respect to my litigation case load, those matters tend to involve claims upon ownership or use of real property, or contract claims between vendors and owners, or businesses and their trade counterparts or employees. No matter what the nature of the dispute, though, the first question I always ask is: What is your goal in resolving this dispute?
TLL: How long have you been working for the firm?
MK: It will be 10 years in August 2017.
TLL: Aside from a very busy schedule, what do you do for fun?
MK: With my kids' ever heavier sports and social schedules it is tough to get out much. But when I can, I enjoy racquetball, all Virginia Tech Hokies sporting events, and getting out to new restaurants, breweries, and vineyards across Northern Virginia with my wife, Kate.
TLL: Do you have a hero or heroine?
MK: William M. Gaines.
TLL: What is your favorite meal?
MK: Lasagna. This, by definition, means meat lasagna with spicy sausage and peppers, garlic, onions, and ricotta cheese. Never allow someone to pass off a multi-layered pasta dish with a primarily vegetable filling as lasagna and never, ever, include mushrooms. Mushrooms are a fungus, not a food.
TLL: What part of the world would you most like to visit?
MK: I'd like to go to Nice, France, and see the French Riviera.
TLL: Why do you think Walsh, Colucci, Lubeley & Walsh is a great place to work?
MK: When I interviewed, Garth Wainman gave me a "no jerks" guarantee. He was, and remains, 100% correct. There are no jerks who work for Walsh Colucci. Resolving disputes and carrying other people's flags into battle can be difficult and stressful, but having respect for and enjoying the people you work with makes it a lot easier.
We are often presented with disputes that require us to theorize the potential outcomes of strategies and press us to consider novel arguments and positions. Having the freedom to engage in those debates with colleagues knowing that we each respect each other enough to realize the best answer may not be your own is an atmosphere that generates both a positive work environment and the best chance of success for our clients.
TLL: Thank you, Michael!