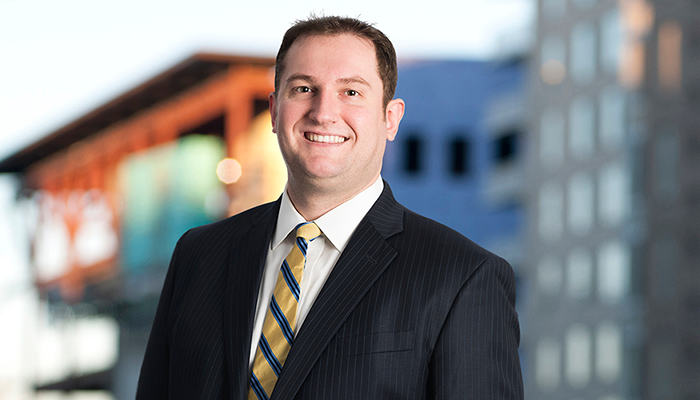 Nick Cumings, who joined the firm this past March, works in the Land Use and Zoning Practice Group in the Arlington office. He attended the College of William and Mary for undergrad and law school (Tribe Pride!). After his long stay there, he considers himself an expert on where to stay and what to do in Williamsburg. Prior to law school, his favorite employment experience was working summers as a short-order cook/snack bar employee at a country club in Connecticut. After Nick graduated from law school, he clerked for Fairfax Circuit Court Judge Michael F. Devine for one year.
The Land Lawyers: Are you from this area? And if not, where did you grow up?
NC: I grew up in Redding, Connecticut, in southwest Connecticut about an hour and a half outside of New York City. I've lived in Fairfax since 2011, moving here after I finished college and law school at William and Mary.
TLL: What did you think you wanted to be when you were younger?
NC: In high school I thought I wanted to work in politics, but by the time I was in college, I grew more interested in law. Working summers at a country club led me to consider hospitality (managing a club) or even cooking as a career.
TLL: What interested you about the legal field?
NC: I was always drawn to courses that focused on research, writing, and a lot of reading. Beyond the usual love of television shows where everyone seemed to be a lawyer (like "The West Wing"), I always felt that law would be something that played to my strengths.
TLL: Are you involved with any organizations?

NC: I am active in the Fairfax Bar Association, where I am currently a board member with the Young Lawyers Section and serve on the convention planning committee for the fall convention.
TLL: Aside from a very busy schedule, what do you do for fun?
NC: Right now I am looking forward to getting out on the golf course this summer, but I also enjoy walking with my two beagles and love cooking — especially grilling or smoking outside. I love sports, especially football (both college and NFL), which tends to dominate my fall schedule.
TLL: What is your favorite meal?
NC: Definitely steak, though as someone with a passion for cooking (and eating) it's hard to choose. My favorite barbecue dishes are ribs and turkey. In the winter, when I'm not cooking outside, I enjoy making simple Italian-American comfort foods and roasting chicken or beef.
TLL: What part of the world would you most like to visit?
NC: I have a long travel wish list, but I have always wanted to take a road trip across the United States and focus on national parks, especially out west.
TLL: Why do you think Walsh, Colucci, Lubeley & Walsh is a great place to work?

NC: The biggest difference for me thus far, besides changing practice areas, has been the wonderful people and active, busy lifestyle. There is a lot of energy here and a great culture.
TLL: Thank you, Nick!