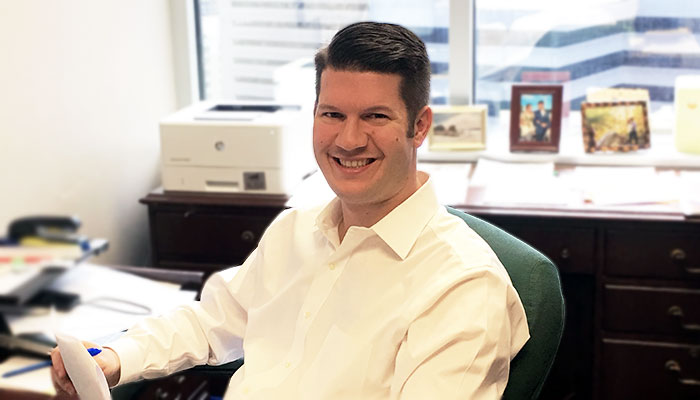 Bob joined the firm in 2015 and works in the Land Use & Zoning Practice Group. His practice focuses on securing zoning and land use entitlements including rezonings, special permits, and special exceptions. Bob was born and raised in Philadelphia, but moved to Arlington in the summer of 2006 after graduating from the College of William and Mary. Bob is proud to call Northern Virginia home for the past 10 years. Much to the chagrin of many of his WCLW colleagues, he still roots for his beloved Phillies and Eagles. Bob met his wife, Jenna, in law school at Catholic University. They bought their first home in Fairfax County last summer, after living in Arlington, and are expecting their first child (a boy!) in May. Congratulations, Bob and Jenna!
We talked to Bob this month and asked him to tell us more about his practice, what interested him about the legal field, and what he does for fun.
The Land Lawyers: What did you think you wanted to be when you were younger?
Bob Brant: The movie "Jerry Maguire" came out when I was about 12 years old, and for the longest time I really wanted to become a sports agent!
TLL: What interested you about the legal field?
BB: I was exposed to land use law at a very early age. My dad is also a land use attorney, and has practiced zoning and municipal law in suburban Philadelphia for the last 30 years. As a child, I didn't take much interest in it – all I knew was that dad had a lot of night meetings! During my third year of law school, I took a seminar course in land use law. Mike Coughlin, one of the firm's shareholders and a fellow alumnus of Catholic University's Columbus School of Law, delivered a guest lecture to our class and walked us through an eminent domain case he was working on at the time. I guess you could say it lit a spark. I stayed in touch with Mike in the years following law school, and the connection helped get me in the door here.
TLL: Are you involved with any organizations in Arlington?
BB: I volunteer as a "Power Lunch" reading mentor through a fantastic organization called Everybody Wins! DC, a non-profit organization devoted to promoting children's literacy and a love of learning. I spend an hour every other week with a second-grade student at Key Elementary School in Arlington reading, talking about what he is learning in school and, most importantly, hearing about how much fun he has playing laser tag on the weekends. It has been an incredibly rewarding experience for me, and I look forward to working with my mentee throughout his elementary school years.
TLL: You work with the Land Use & Zoning Practice Group. Explain what types of issues you handle.
BB: My practice is devoted to working with property owners, business owners, and developers to secure land use entitlements including, for example, rezonings, special use permits, and special exceptions. I work in a number of jurisdictions throughout Northern Virginia including Fairfax County, the City of Alexandria, Arlington County, and the Town of Vienna. I enjoy this line of work because it allows me to participate in shaping the future of our region through collaboration with our clients, local government, and the community.
TLL: Aside from a very busy schedule, what do you do for fun?
BB: I study zoning ordinances. Just kidding (although there are some fun hidden gems in there!). In my spare time, I like to play golf and tennis, spend time with family and friends, and most importantly, collect and listen to music. Several years ago, I liberated my dad's vinyl record collection from some boxes in a dusty corner of my parents' basement. I started with about 200 classic rock records (Beatles, Rolling Stones, Bob Dylan etc.), and have added about 700 or so of my own. I spend a lot of time at various record stores throughout the area – particularly at Mobius Records in Fairfax City – flipping through the crates and discovering new music.
TLL: Do you have a hero or heroine?
BB: My mom and dad. I think I inherited the best parts of both of them, for which I will always be grateful.
TLL: Favorite meal?
BB: Pepperoni pizza and a cannoli from the Italian Store in Arlington. I eat it just about every week!
TLL: What part of the world would you most like to visit?
BB: For our honeymoon, my wife and I took a 10-day cruise around the Mediterranean, visiting ports in Italy, Greece, and Turkey. I would do it over again 100 times!
TLL: Why do you think Walsh, Colucci, Lubeley & Walsh is a great place to work?
BB: Our firm consists of genuinely great people. We are an eclectic group, but we work together as a team, and have one anothers' backs. I have felt truly welcome here since Day One, and look forward to a long career as a Land Lawyer.
TLL: Thank you, Bob!