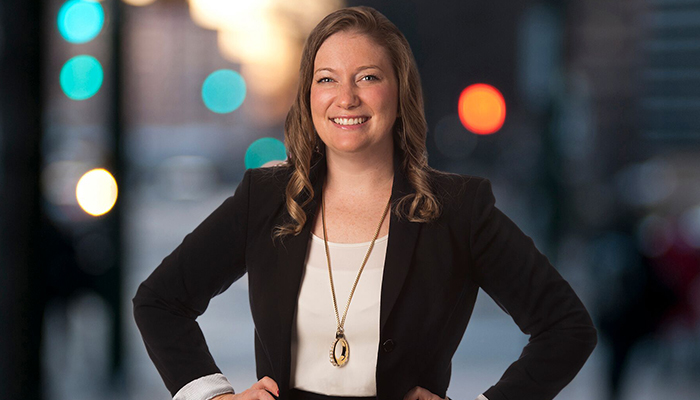 Sarah worked for the Firm during the summer of 2013 as a summer associate and has rejoined us as a litigation associate in the Prince William office. Prior to joining the Firm, Sarah clerked for the Honorable Rossie D. Alston Jr. on the Court of Appeals of Virginia. She also clerked for the Honorable Tracy C. Hudson on the Prince William County Circuit Court. Sarah graduated from George Mason University's Antonin Scalia Law School after earning a B.A. in English and History from The College of William and Mary.
In her spare time, Sarah enjoys discovering new restaurants, traveling to places she's never been, reading, running, and going to concerts.
In this month's Employee Spotlight, we will learn a lot more about Sarah. Read on!
The Land Lawyers: Are you from this area? And if not, where did you grow up?
SM: I'm from this area, and grew up in Manassas.
TLL: What did you think you wanted to be when you were younger?
SM: When I was younger I wanted to be a marine biologist because I loved going to the beach.
TLL: What interested you about the legal field?
SM: I really like that the legal field seems to always present new issues and challenges. I knew that if I went into the legal field I would never be bored.
TLL: What aspect of your role do you enjoy the most?
SM: I enjoy finding ways to help people, and getting to see a case through from start to finish.
TLL: Aside from a very busy schedule, what do you do for fun?
SM: I enjoy spending time with family and friends, hiking, and exploring new places.
TLL: Where's the best place you've traveled to, and why?
SM: My favorite trip so far was to England. It has so much history, a lot of fun things to do, and a beautiful countryside.
TLL: What part of the world would you most like to visit?
SM: I would really like to visit South Africa. I took a few classes about South African history in college, and everyone I know who has been there has really enjoyed it.
TLL: What is your favorite book and why?
SM: It's hard to pick just one. I just read a good book called The Zookeeper's Wife, and I would say that's my favorite book of the moment. I like that it's nonfiction and tells a fascinating story from WWII that I had never heard before.
TLL: What do you like most about working at the Firm?
SM: I like all the people that I work with and all the different types of cases I get to work on. Each day there is something new to learn.
TLL: Thank you, Sarah!