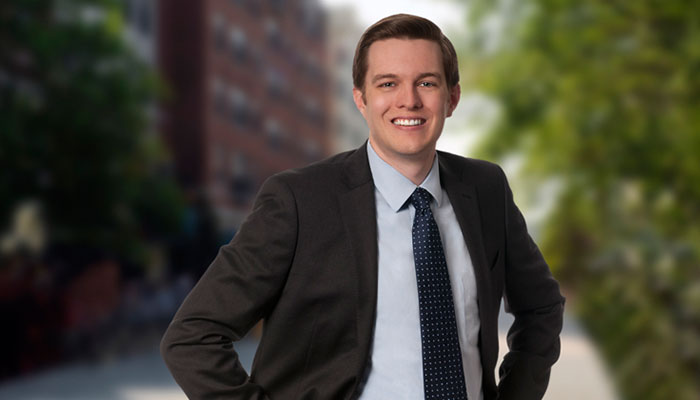 A native of Northern Virginia, Matt first joined Walsh, Colucci, Lubeley & Walsh in 2007 after graduating from York College of Pennsylvania. At that time, he worked in the Real Estate Transactions and Business Transactions practice groups — first as a legal assistant, then as a paralegal assisting in the preparation of documents for the acquisition, finance, sale, and development of real property. Matt returned as a Summer Associate in 2009 and 2010, before rejoining the Firm as an Associate in 2011 after graduating from the Dickinson School of Law at Penn State University.
Today, Matt works with the Litigation and Eminent Domain practice groups assisting property owners and developers in zoning, subdivision, eminent domain, and other land use disputes in state and federal courts in Virginia. He also represents lenders, developers, and property owners in issues involving complex real estate transactions, landlord/tenant conflicts, and title, easement, and alley disputes. In addition, Matt assists clients in obtaining administrative approvals such as ABC licenses, complex business disputes, trusts and estates litigation, and drafting documents for the acquisition, finance, and sale of real property.
In his free time, Matt enjoys spending time with his family and friends, golfing, hunting, and rooting for his favorite sports teams. A former college baseball player, Matt is also part of the Firm's Mushball team which competes annually against teams from other D.C.-area law firms and real estate companies in the Legal Mushball Classic benefiting the Washington Nationals Youth Baseball Academy. Last year, Matt and his wife, Kristin, welcomed their first child, a baby girl, Kennedy.
Read this month's employee spotlight and get to know more about Matt!
The Land Lawyers: Thank you for participating in this month's employee spotlight. You worked for the Firm on and off throughout high school, after you graduated from college, and finally as an Associate beginning in 2011. What made you decide to continue working with the Firm?
Matt Westover: The people. Period. I've heard many people say this Firm is a great place to work because of the people who work here, and I think that cannot be said enough. The Firm is a family, and I have been blessed to be a part of it for the last 10+ years.
TLL: When did you first become interested in the legal field? What interested you about it?
MW: The earliest I can remember sincerely taking an interest in the legal field was in college. What appealed to me most was the challenge of helping others accomplish a goal or avoid the consequences of a difficult situation.
TLL: Who would you say is/was your best mentor?
MW: This one is tough! I have been fortunate throughout my life to be surrounded by a number of people who have supported me and helped me achieve my goals. I have had wonderful mentors in my baseball, educational, and legal careers, and life in general. It is impossible to name just one because each has made a significant impact on my life. I would not be where I am today without any of them!
TLL: What do you like most about being part of the Land Lawyers team? What aspect of your role do you enjoy the most?
MW: First and foremost, the people who make up the Firm are what I enjoy most about being a part of the team. I also enjoy the intellectual challenge that comes with trying to help a client achieve his or her goal or work through a difficult situation.
TLL: Congratulations again on your baby girl! How is parenthood? What would you say are the biggest lessons you've learned so far?
MW: Thank you! Parenthood is fantastic! We have been incredibly blessed with Kennedy, who is happy, healthy, and full of energy. I'm sure I'm in store for many lessons as she grows up, but I think the biggest thing I have learned so far is to slow down and enjoy each moment with her because she is growing up way too fast! She may only be 9 months old, but it seems like yesterday we were in the hospital meeting her for the first time.
TLL: Aside from practicing the law and being a parent, what do you like to do for fun?
MW: Aside from spending time with family and friends, I enjoy golfing when it's warm and skiing and bird hunting with our dog (a Brittany named Kayla) when it's cold. I also enjoy watching baseball, football, and golf.
TLL: What is your favorite sports team?
MW: Although I have lived in Northern Virginia for almost 30 years, I was born outside of Seattle and raised a Mariners and Seahawks fan (I was also a Sonics fan until they moved to Oklahoma City …). My loyalty to those teams has not changed throughout the years. My dad and brother still live near Seattle, so I try to make it back for Mariners and Hawks games when I can.
TLL: Thank you, Matt!