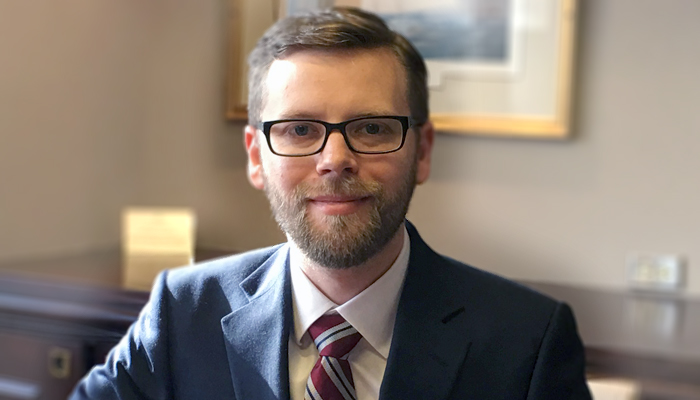 Tim Clewell rejoined the Firm full-time in August 2017 as a transactions associate after graduating from the Georgetown University Law Center. He first worked with the Firm as a part-time law clerk assisting the transactions practice group. Prior to joining the Firm, Tim worked as a paralegal assisting with real estate litigation for the law firm Rich, Rosenthal, Brincefield, Manitta, Dzubin & Kroeger, LLP. Tim also worked as an adjunct professor at Northern Virginia Community College where he taught Introduction to Philosophy, Ethics, and Logic. Tim and his wife Natalie moved to Virginia from Georgia and have a two year old son Quentin, and a Jack Russell terrier named Mandy. They enjoy living in Old Town Alexandria and spend lots of time visiting the waterfront and local shops.
In this month's Employee Spotlight, we will learn a lot more about Tim. Read on!
The Land Lawyers: Are you from this area? And if not, where did you grow up?
TC: I grew up in Pennsylvania, about 45 minutes north of Philadelphia, but moved to Bath County, Virginia the summer before my senior year of high school. I moved around a lot since then (GA, FL, TN, GA again), but I always hoped to find my way back to Virginia. We now live in Alexandria and love it!
TLL: What did you think you wanted to be when you were younger?
TC: My grandmother told me that when I was young I would ask why something was the way it was. She would give me some answer and I would respond with a list of reasons why that couldn't be the case. My family thought I should be a lawyer, but it took me a while to get there; I just wanted to keep asking questions. I also loved to read and write, so anything I settled on had to include those activities in the description. Philosophy seemed the obvious choice at the time and when I enrolled as a freshman in college I declared that as my major. But law school was always in the back of my mind as something I may eventually like to do.
TLL: What interested you about the legal field?
TC: As a grad student in philosophy I spent a lot of my time trying to poke holes in other people's work. Philosophy papers and conferences can be as adversarial as legal briefs and trials. The dialectic is fun and important, but I prefer looking for the common ground. For a number of reasons I determined that an academic career was not for me, but I gained a clearer understanding of what I wanted to do. While studying ethics I discovered that the common law is fertile philosophical ground, and contracts in particular can teach us a lot about human cooperation. A good contract can create a great deal of value for multiple parties, and success is when everyone walks away happy. I began to look into what sort of work a transactional attorney does, because it seemed like the sort of work I wanted to do. In the meantime, my wife and I decided to move to Northern Virginia. I quickly realized that the intersection of governmental, business and civil sectors of society found in the Northern Virginia and DC area creates a fascinating place to practice law. At that point my choice was made. Luckily there are a lot of law schools in the area to choose from, and I applied with the intention of focusing primarily on transactional law.
TLL: What aspect of your role do you enjoy the most?
TC: I love that we are helping people to realize their vision. When all is said and done, you can go and look at the development you helped make a reality. Our work has a practical and beneficial impact on the area where we live, and I appreciate that fact whenever I am driving and see new projects underway.
I also love the problem solving aspect of the work. Each client has a unique set of issues that need to be addressed, and it's very rewarding when you are able to distill those issues down and provide practical solutions. This was one of my favorite aspects of teaching as well, and I'm glad that it is a core of what we do as attorneys.
TLL: Are you involved with any organizations?
TC: I volunteer as a tutor and mentor for Wright to Read, a non-profit in Alexandria that teams you up with a student from the Alexandria City Public Schools who you work with on a long-term basis. I've been mentoring my student Jeremy for almost three years and it has been amazing to watch him grow, both as a student and an individual.
Mike Coughlin has also been getting me involved in Rebuilding Together Alexandria. Although I am just getting started, I am very excited to be a part of an organization that has helped so many people to stay in their homes by making repairs that they would not otherwise be able to afford.
TLL: Aside from a very busy schedule, what do you do for fun?
TC: Spending time with my wife Natalie and 15 month old son Quentin are at the top of my list. I also try to get outdoors when I can to ski, hike, and mountain bike. Saturdays in the fall are for UGA football. When all else fails, I usually have several books going at any given time.
TLL: Where's the best place you've traveled to, and why?
TC: This is a tough question. My wife and I love to travel, although it has been a while since we've had the chance to go anywhere. Usually when planning our trips we carve out a couple of days in a small town away from any major cities. These side trips almost always result in our meeting great people and having some unique adventures. So I would say our favorite place is where the locals are, no matter the country.
TLL: What part of the world would you most like to visit?
TC: Another tough question, but I would say sailing around the Greek islands is on my bucket list. There is so much beauty, history, and culture in one place.
TLL: Words to live by — What are yours?
TC: "Without deviation from the norm, progress is not possible." – Frank Zappa. I don't know if they are words to live by, but it's something that I think often gets forgotten, and I never miss an opportunity to quote Zappa.
TLL: Why do you think Walsh, Colucci, Lubeley & Walsh is a great place to work?
TC: The people! Every day I get to work with people who love what they do and who are very good at it. Also, everyone is very friendly and generous with their time. It is a great environment and I get to learn from the best!
TLL: Thank you, Tim!