In 2014, the Dittmar Company received rezoning approval for its 5.3 acre property at the corner of Leesburg Pike and Westpark Drive in the heart of Tysons, within an easy walk to the Greensboro Metro Station. Site of the Best Western Westpark Hotel, the land was rezoned to the Planned Tysons Corner (PTC) District and approved for a new hotel and two residential towers with up to 1300 dwelling units, referred to as Westpark Plaza. Since the approval, the hotel was demolished and the site used for parking and staging associated with the construction of The Boro located immediately adjacent to the site, as well as commercial off-street parking for Metro users. Last month the Board of Supervisors approved new interim uses for the site in advance of its ultimate redevelopment.
The new uses include new vehicle storage and a reading-themed pop-up park. The interim park includes a lending library, book-themed art, outdoor seating, painted asphalt, alphabet stepping stones, a shade structure, and space for food trucks. Walsh Colucci senior planner, Elizabeth Baker, represented Dittmar on the application. LandDesign, landscape architects, designed the multi-generational pop-park to enliven the Westpark Drive frontage and become a new amenity for residents and workers in the area. This unique theme was chosen as it reflects the commitment of Dittmar to contribute to a new Tysons community library with future redevelopment, and offers a park unlike any other planned for Tysons. The Tysons Partnership, a public-private organization with the goal of advancing the evolution of Tysons into an urban center, also participated in the pop-up park planning.
Given the number of large approvals in Tysons and the realities of market conditions, interim uses are becoming important elements in the transformation of Tysons. Accommodating these uses either with an original rezoning approval or as an amendment helps ensure productive uses now and into the future.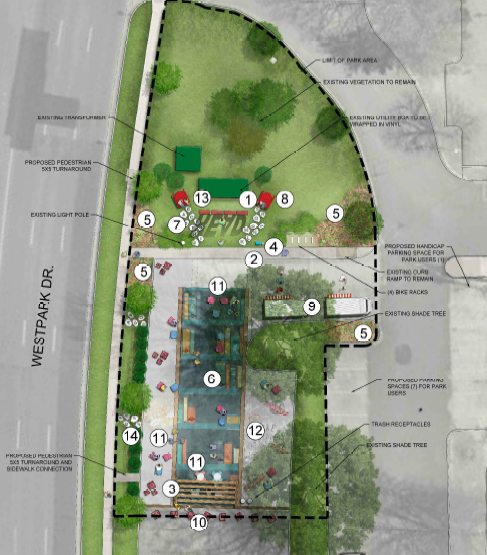 Image Source: LandDesign