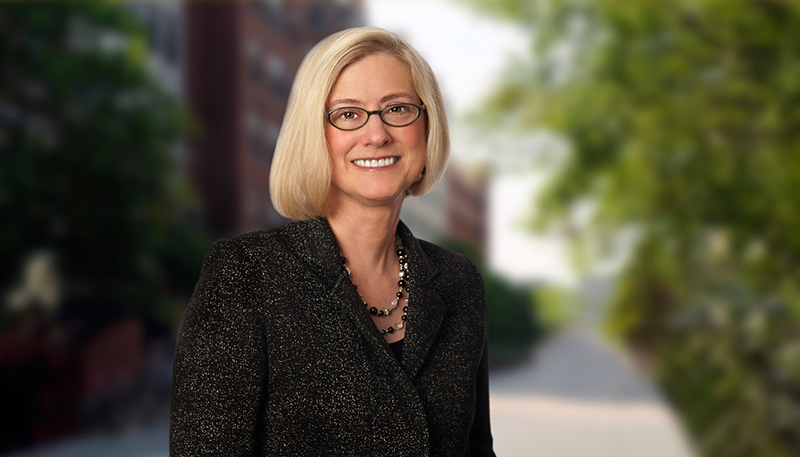 When I solicited suggestions for my next column feature, I immediately heard from many firm employees recommending that I feature Lynne Strobel due to her well-known and much respected history of community involvement and her track record of good deeds. Lynne is a land use attorney in the firm's Arlington Office and is fortunate to now live in Arlington. She grew up, however, in Fairfax County and her practice is focused in Fairfax County. Due to her deep connections to both Fairfax and Arlington Counties, she has made it her mission to contribute to and be involved in both communities.
In Arlington County, Lynne is involved with Doorways for Women and Families, having served on its Board of Directors for six years and as Chair of the Facilities Committee. Doorways operates a family home and Arlington County's only domestic violence shelter, but its mission is much broader than simply providing emergency housing for women and families in crisis. Since 1978, Doorways has worked to break the cycles of poverty and violence by providing individually tailored programs and services to help every adult and child they serve overcome trauma, build life skills, and ultimately unlock their full potential. Doorways provides counseling services and assists clients with finding employment and improving their financial literacy while working with them to ease the transition into safe and permanent housing of their own.
Lynne explains that she believes it is important for a community to be inclusive of people in various circumstances. "I have learned through my involvement with Doorways that life circumstances can change suddenly, affecting all aspects of an individual's life. It is important that people have organizations they can turn to during such times. When we strengthen those in our community who are the most in need, we strengthen the entire community." Lynne's most rewarding experiences have come from instances when she has been able to help Doorways achieve its mission using the advocacy skills she has honed during her 30 years of legal practice. Several years ago, Lynne played an instrumental role in assisting Doorways in reviewing and negotiating the lease for its new office space. She also assisted in coordinating a partnership effort between Doorways and Arlington Partnership for Affordable Housing, Inc.
Doorways recently began its Revive Domestic & Sexual Violence Counseling Program in Arlington which supports survivors—including adults and children—seeking services due to domestic violence, sexual assault, dating violence, and/or stalking. Lynne is proud to have played a small part in Doorways' growth and development over the years as the organization continues to reach and assist more Arlingtonians each year.
One of the organizations Lynne is involved with in Fairfax is Celebrate Fairfax! Although Celebrate Fairfax! is widely known for its annual festival, Northern Virginia's largest community-wide celebration, its mission is the celebration of Fairfax County and its communities. Lynne served two non-consecutive six-year terms on the Board of Directors of Celebrate Fairfax!, and now is a member of the leadership team and scholarship committee, which oversees the Celebrate Fairfax Community Spirit Scholarship Program. The Scholarship Program recognizes and provides scholarships to 10 high school seniors graduating from Fairfax County Public Schools. Recipients are recognized for their community involvement, academic accomplishment, extracurricular activities, and demonstrated leadership.
Lynne enjoys working with many community leaders to ensure the success of the festival. "I enjoy taking time to give back to and celebrate the Fairfax County community where I have done so much work throughout the years. It is fun for me to interact with the members of the Fairfax County Board of Supervisors in a different role." As a sponsor of Celebrate Fairfax!, Walsh Colucci has also contributed to the success and mission of the annual festival by providing tickets to children and families in Fairfax County who would not otherwise be able to attend the festival.
This year the festival will be held June 9–11 at 12000 Government Center Parkway in Fairfax. Festival programs include local wine and craft brew tasting, a silent disco, a long-running karaoke championship, and eight stages of entertainment and music. Lynne says "I love all of the main stage acts. It's fun when they bring back groups from the '80s and '90s." This year, the festival offers you a chance to take a stroll (or dance) down memory lane with the bands Bush and Everclear.