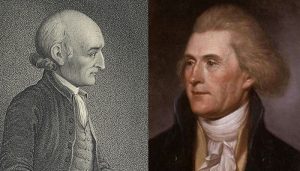 Antonia is an attorney in the Real Estate Transactions and Commercial Business Transactions practice group. This is her first column in a series about the firm's charitable and volunteer activities.
George Wythe, the nation's first professor of law, and one of his star pupils, Thomas Jefferson, were two of the earliest proponents of the citizen lawyer ideal. The premise of this philosophy is that lawyers should not only strive to be excellent legal craftsmen (and craftswomen), but also good citizens and leaders of their communities, states, and nations.
When I first learned about the citizen lawyer ideal in law school, I thought it was just that—an ideal that was rarely practiced. Much to my surprise, during my five years with The Land Lawyers, I have found that many of the attorneys at this firm epitomize, whether knowingly or not, the qualities of the citizen lawyer first promoted by Wythe and Jefferson.
Beginning next month, Virginia's Land Sense will feature a monthly column highlighting the community service and involvement of one of the firm's employees. To kick off the "Good Deeds" column, here is an overview of some of the community activities the firm and members of the firm have been involved in thus far in 2016.
Starting in early 2016, Arlington employees began participating in the Everybody Wins! DC Power Lunch Program. Through this program, volunteers made the short trip over to Key Elementary School on a weekly basis to read with their student mentees. During these sessions, firm employees had the opportunity to turn their attention from reading contracts and proffers to reading about the Berenstain Bears and Fly Guy!
This summer, the firm also participated in the HomeAid Northern Virginia 2016 Backpack Challenge. Through donations from members of the firm, 25 backpacks were donated, making going back to school easier for children in the D.C. Metro Area.
Finally, members of the firm participated in the 2016 Legal Mushball Classic held at the Washington Nationals Youth Baseball Academy. Although the firm's team put in a great showing and finished second in a field of 21 teams, the real winners were the children of the Academy, an organization that uses the sports of baseball and softball to foster positive character development, academic achievement, and improved health among youth from underserved communities in Washington, D.C.