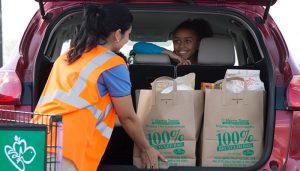 At the intersection of Northstar Boulevard and Braddock Road, the Kirkpatrick West Commercial Center is located in the heart of Loudoun's fastest growing area.
The population within two miles of the Kirkpatrick West Commercial Center in Loudoun County is projected to increase from just over 20,000 residents to more than 30,000 residents in as few as five years. In 2013, considering the rapid rate of growth, Harris Teeter purchased the 20-acre Kirkpatrick West Commercial Center with the idea of creating something special, and expandable, to benefit the residents living in proximity to the site.
The grocery store chain sought approval for the expansion of a previously approved commercial center to accommodate a 77,000-square-foot prototype store—with the ability to expand to 103,000 square feet—and a fuel station. To accomplish this, Harris Teeter engaged the community in more than a dozen outreach meetings throughout this multiple-year effort. The process was not without challenges. Despite the suburban zoning pattern that encompasses the site, the area's rapid growth, and the lack of commercial retail options available nearby, the commercial center was subject to an outdated Transition Policy Area planned land-use designation that limits the type of retail uses supported by County land-use policy.
While there were many supporters, there were also detractors who loudly voiced their opinions during the review process. Harris Teeter responded to these comments by adding mitigation measures to the application and addressing potential effects on nearby residences.
Through these efforts, on September 22, Harris Teeter was able to gain approval from the Loudoun County Board of Supervisors for the expansion of the commercial center to accommodate the prototype store and fuel station. As a result of this long and hard-fought effort, Harris Teeter will be able to provide first-class commercial retail services for residents in an area of Loudoun County that currently suffers from a significant deficit in retail services.