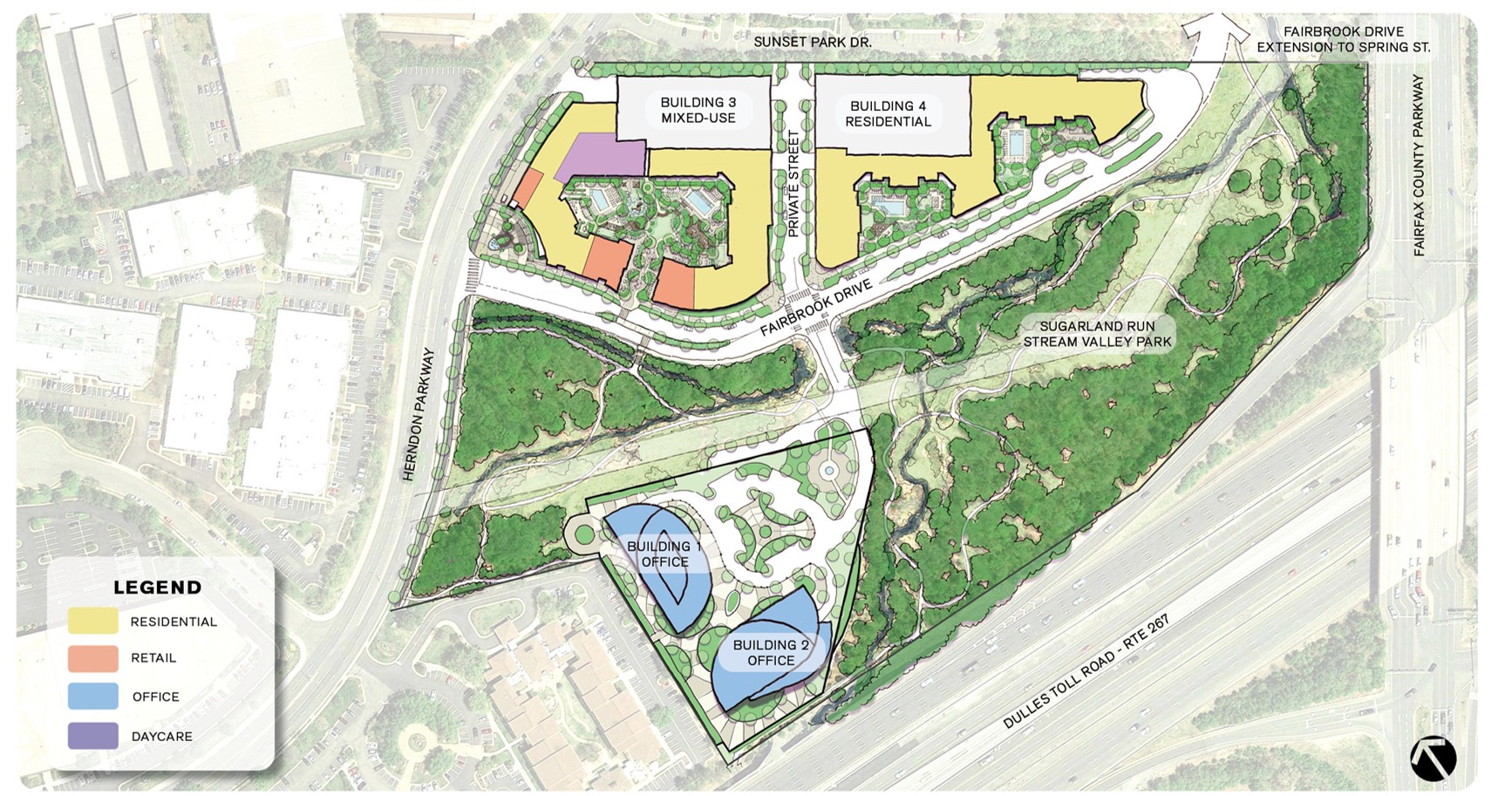 Image Source: LandDesign
On November 17, 2020, the Quadrangle Development Corporation, with the expert assistance from Senior Land Use Planner Elizabeth Baker and Land Use Planer Bernard Suchicital, received unanimous approval from the Herndon Town Council to build a mixed-use development of up to 1.5 million square feet (1.25 FAR) at Fairbrook Park in the southeast part of the Town.
The developer acquired the 28-acre site at the intersection of Herndon Parkway and Fairbrook Drive in 1984. It built one office building on the site, a two-story structure totaling 80K SF. The site has long been approved for three additional office buildings and a hotel, but the developer sought to change the plans to increase the gross floor area and add residential and retail to the mix. Given its size, and its location adjacent to the Dulles Toll Road and within a half-mile walk from the future Herndon Metro Station, the site is well suited to creating a mixed-use community. The introduction of residential and retail uses are viewed as important elements that will enhance the opportunities for office development. The Herndon Town Council approved the new plans under the Landmark Business Alternate Overlay regulations. The Council approved four buildings with a land use mix of 60% residential/daycare/retail, and 40% office:
19-story office building totaling 360,000 square feet
10-story office building totaling 240,000 square feet
Eight-story residential building totaling 410,000 square feet
Eight-story residential building totaling 470,000 square feet, and up to 10,000 square feet of ground floor retail use and 10,000 square feet of daycare use
The office buildings were approved with a height of up to 275 feet, creating a prominent architectural feature along the Toll Road. Residential buildings can range in height from 65 to 105 feet, and feature large exterior courtyards to complement the interior residential amenity areas.
This application allows for the future extension of Fairbrook Drive, connecting it from Herndon Parkway to Spring Street at the Fairfax County Parkway ramp intersection. Quadrangle will be dedicating the land and constructing Fairbrook Drive across its property and making a monetary contribution to the Town for the off-site extension of the road. The staff report noted that while the Fairbrook Drive extension is necessary to mitigate the increased traffic from this development at full build-out, only approximately 37% of peak hour traffic on the extension would be associated with the Fairbrook development The remaining traffic is generated from sources elsewhere in Town and nearby expected growth.
Elizabeth worked closely with the Quadrangle development team and Town staff to gain approval of two additional concurrent applications for the site. The first request allows for an encroachment into the Resource Protection Area, and the other allows for development in the floodplain.
Quadrangle's development team included DCS Design architects, VIKA civil engineers, LandDesign landscape architects, Wells + Associates transportation consultants, and Wetland Studies and Solutions, Inc. environmental specialists.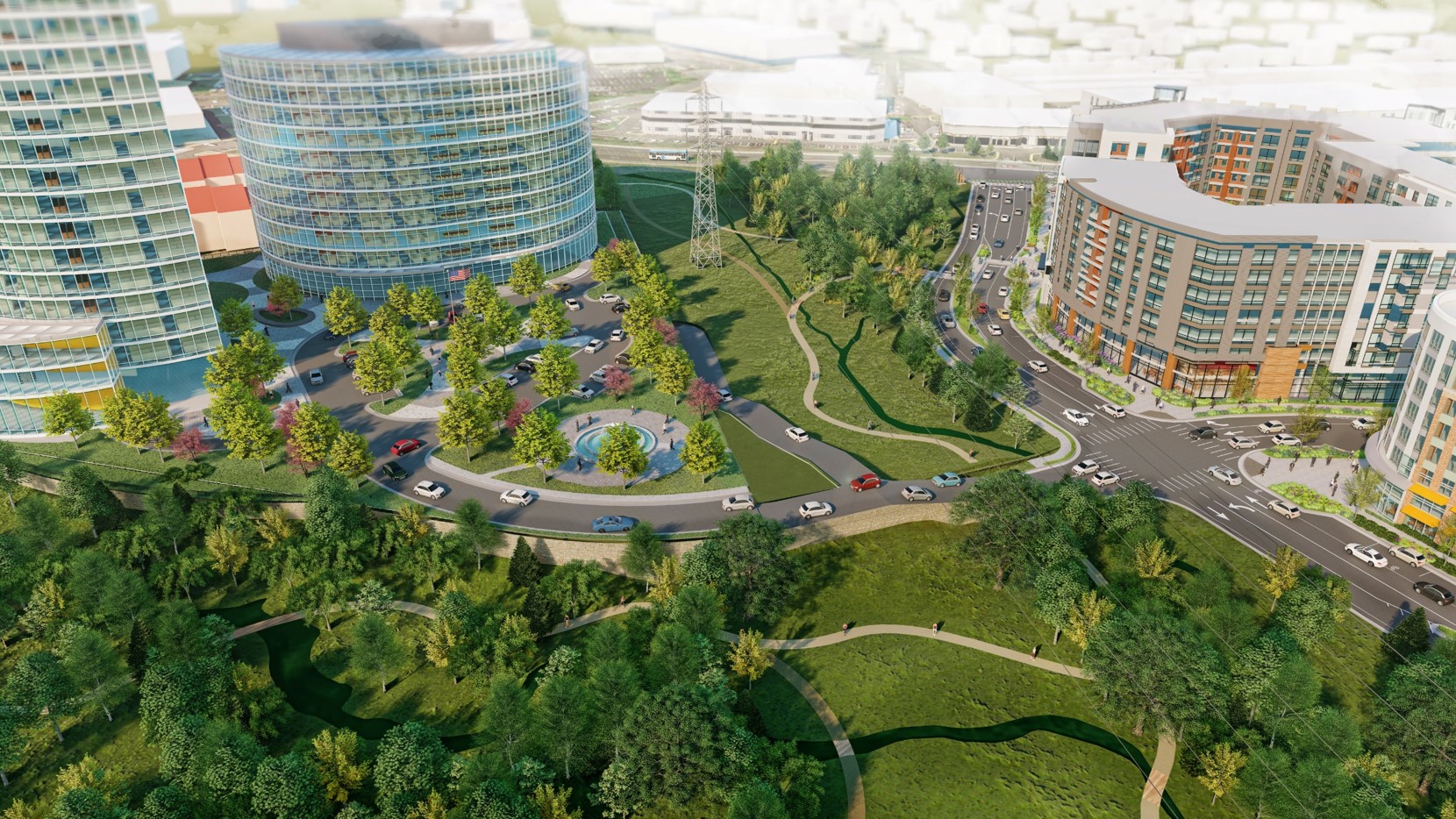 Image Source: LandDesign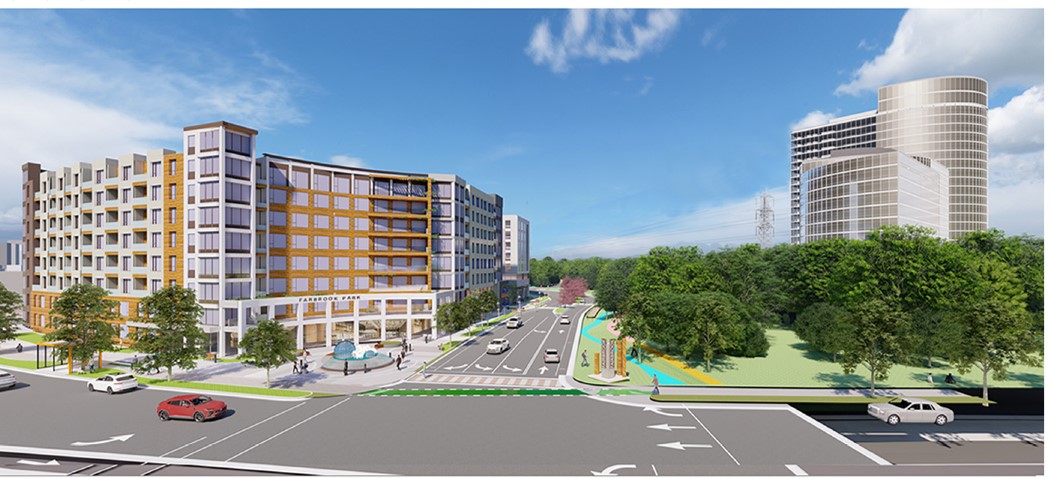 Image Source: DCS Design