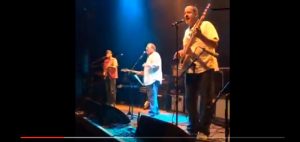 They may not have scored the Number 1 slot on the Billboard charts, but when the final decision was handed down, Law Rock's Rock Panel of Judges found in favor of all the musicians who participated in the battle-of-the-bands fundraising concert. All of us at the firm are especially proud of Larry & The LandLawyers, whose performance, donations, ticket sales, and firm sponsorship benefited HomeAid Northern Virginia.
On September 22, 14 dedicated law firm bands' fans from around the DMV packed the acclaimed 9:30 Club to raise money for their favorite charity and Law Rocks, a non-profit organization that hosts a series of concerts headlining legal professionals from around the globe. Larry & The LandLawyers, performing for HomeAid Northern Virginia, were one of the bands competing for the title of top fundraiser and the coveted Judges' Choice Award.
Larry & The LandLawyers took the stage early and got the joint jumping with an impressive and energetic set of cover songs by well-known rock legends including Elvis Costello. Their rendition of The Slickee Boys "Gotta Tell Me Why" earned the band a thumbs-up from 9:30 Club sound engineer Gus Vitale. Bass player John Rinaldi pulsed life into the Police hit "Driven to Tears," and drummer Larry Clark anchored Billy Idol's "Rebel Yell" with perfectly timed beats. Lead guitarist Mike Kieffer shredded during Van Halen's "Panama," the band's closing number and clear crowd pleaser. The only thing that could have possibly set the crowd reeling would have been a high-flying scissor kick from lead singer Mark Goetzman.
Noise in the Basement, a seven-member band of legal professionals from Venable LLP and LexisNexis was the top fundraiser, and IM Beats, an all-female acoustic duo from Irwin Mitchell LLP, won the Judges' Choice Award. By evening's end, the event had set a new one-night record, raising more than $115,000.
If you'd like to give, donations are still being accepted. Click here, and be sure to select Team Larry & The LandLawyers – HomeAid Northern Virginia. HomeAid Northern Virginia, a successful and dynamic non-profit started by members of the Northern Virginia Building Industry, builds and renovates housing and shelter facilities for the organizations that own or operate them. To learn more about HomeAid Northern Virginia and support their local programs, visit www.homeaidnova.org.
To learn more about Law Rocks, click here. To see images from the event, visit them on Facebook. You can also watch Larry & The LandLawyers' performance at the 9:30 Club on You Tube.