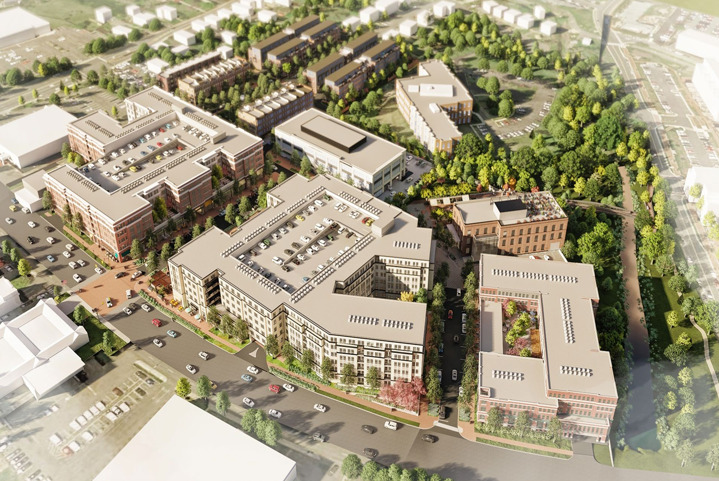 With land values and the demand for residential development at record-highs, localities across Northern Virginia have increasingly looked to the redevelopment of older commercial shopping centers as a way to accommodate new investment and housing.
On January 11, 2022, the Leesburg Town Council took a major step forward in this regard when it approved Keane Enterprises' proposal to redevelop the aging approximately 18-acre Virginia Village Shopping Center into a new mixed-use neighborhood.
Once a bustling suburban shopping center, Virginia Village was initially developed in the mid-1950s under the direction of the late John Ours. The center gradually expanded until it reached its current state in the 1980s. Keane Enterprises purchased the center in 2017 and began contemplating ways to give the center a renewed sense of vibrancy. It performed a market assessment, which determined the center to be outmoded in its layout, architecture, and environmental sustainability. For example, parking lots currently comprise approximately 85 percent of the property, and more than 70 percent of the property is impervious.
After exploring the concept of simply updating and repositioning the center, Keane explored what might be possible under the Town's comprehensive planning documents. Keane learned that, since the 2006 adoption of the Town's Crescent District Master Plan, the Town has targeted Virginia Village (and the entire Crescent District) as being ripe for substantial mixed-use redevelopment.
The Crescent District Master Plan, generally, encourages reinvestment in the Town's older "first ring" commercial centers in a way that would expand and complement the historic downtown. The plan also envisions a new grid of streets and a break from the single use, suburban automobile-oriented development pattern that has pervaded Leesburg over the past 60 years. It also seeks to diversify the Town's housing supply by attracting a mix of housing types that will drive the demand for retail and employment uses as a part of the Town's long-term economic development strategy. To implement the Crescent District Master Plan's goals, the Town adopted the Crescent Design District in 2013 with design regulations.
As approved, the Virginia Village project will include 65,000 square feet of ground floor retail uses and 100,800 square feet of office uses. The project will offer the first Class A office space to be built proximate to downtown Leesburg in recent decades, which will keep the Town competitive as a jobs center relative to newer mixed-use centers and submarkets.
The project will also provide a full continuum of housing opportunities by delivering 53 townhomes, 28 two-over-twos (stacked townhomes), 72 condominiums, and 490 multifamily rental units. Importantly, the project's apartments will be the first to be built inside the Leesburg bypass since 1988, and a majority of them will be studios and one-bedroom units. This represents a substantial departure from the Town's existing apartment stock, approximately 70 percent of which is comprised of two- and three-bedroom units.
Of critical importance, the project commits to 33 new Affordable Dwelling Units – the largest number of rent-controlled units yet delivered in the Town. Keane's approach to housing diversity will add to the attraction of the Town as Loudoun County's only HUBZone, which is a Small Business Administration program that requires 35 percent of employees to physically reside within a HUBZone.
Complementing the eclectic architecture found in the historic downtown, the project will include traditional vernacular brick materials, stone, and dark industrial metal accents. Shops and restaurants will seamlessly blend with the office and residential buildings. Structured parking will be provided and will be architecturally treated and shielded, ensuring an uninterrupted streetscape.
Recognizing that the Crescent District today lacks parks and opportunities for passive and active recreation, Keane spent substantial efforts on transforming much of Virginia Village into a series of highly-amenitized outdoor gathering spaces and parks. Keane intentionally focused on the quality of each open space and the types of activities that are likely to take place within these spaces.
A central green, for example, will serve as a focal point for the project's townhomes and stacked townhomes, and will feature a multipurpose lawn and playground. A continuously-activated linear park along High Street will offer a lively-activated space adjacent to ground floor retail and outdoor dining. The proposed Ours Overlook—named in honor of the Ours Family, will serve as a publicly-accessible civic plaza and include an outdoor amphitheater for events.
Adjacent to Ours Overlook, Keane will dedicate land for an extension of Raflo Park, which will result in create the largest concentration of passive recreational space proximate to the historic downtown. As part of this open space, Keane has proposed a pedestrian bridge over the Town Branch stream that will connect the Ours Overlook to S. Harrison Street. This bridge will enhance pedestrian connectivity and provide an innovative signature visual element for the entire Crescent District.
Keane is particularly proud of the project's environmental benefits, which will expand the mitigation of stormwater runoff,  enhance the site's habitat and aesthetic opportunities, and ultimately aid in the reduction of the existing urban "heat island" effect. More than 400 new trees will be planted, and some 2.55 acres of existing floodplain along Town Branch Stream will be preserved, ensuring the protection of the natural habitat for wildlife and enjoyment of the public.
Over the course of more than two years, Keane and its design team – which included MV+A Architects, LandDesign, Urban, Ltd., and Gorove/Slade Associates – worked collaboratively with staff and decision-makers on myriad issues such as architecture, layout, and parking. Common ground was found regarding regulations that had never before been interpreted or applied. Keane solicited substantial community input through seven community meetings and through CoUrbanize, an online community engagement platform that generated more than 7,500 unique visits and nearly 1,200 comments. The Town Council public hearing included more than 20 speakers voicing support for the project.
The result of these efforts will be a regionally-significant marquis project that will provide a blueprint for how to transform an aging and environmentally unsustainable commercial strip mall into an exciting mixed-use neighborhood. By introducing job-friendly housing and increasing the amount of commercial square footage on the site, the project will also serve as a catalyst for encouraging redevelopment and new investment in the Crescent District.