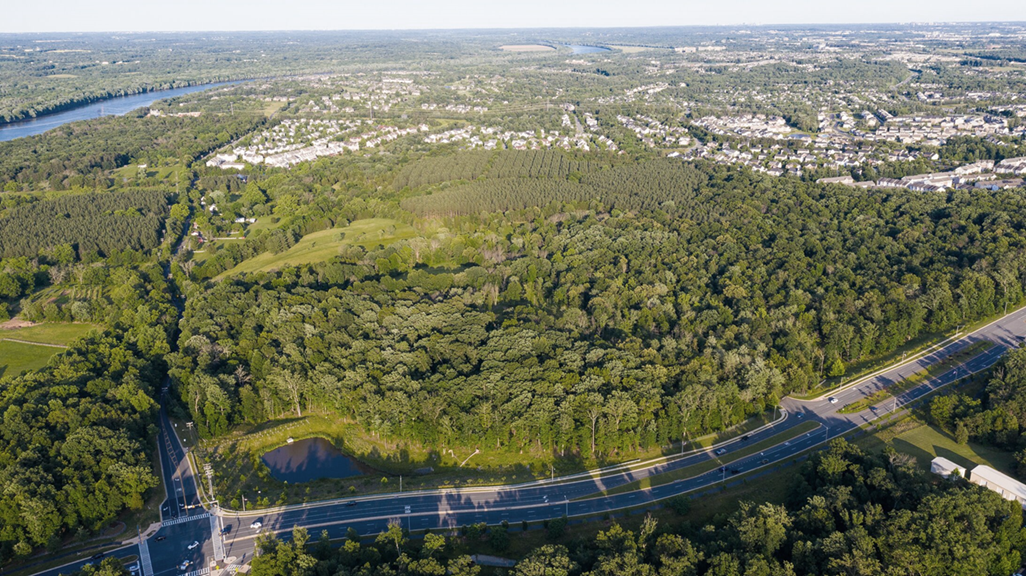 On March 11, 2020, the Loudoun County Board of Supervisors approved Elm Street Communities' plans for a 250-unit new urbanist community on a portion of the historic 192-acre Cattail Run Farm, which lies east of the Town of Leesburg.
The farm, which has served as a home for five generations of the Harris Family, has been increasingly surrounded by suburban development in recent decades. Despite this new growth, the farm remains a place of great environmental sensitivity and rich pastoral beauty. It also endures as a place of history, and includes the Cattail Ordinary (believed to be one of Loudoun County's oldest structures) as well as remnants of a Civil War-era entrenchment.
Recognizing the inevitable march of change which has arrived at the farm's doorsteps, the Harris Family spent more than six years developing a three-point plan to protect the family's interests, as well as preserve the farm's historic and environmental aspects.
The family's plan includes the donation of 11.5 acres to provide a permanent home for St. Gabriel's Episcopal Church, which is a diverse bilingual church that began as an outgrowth of the historic St. James Episcopal Church in downtown Leesburg. The family's plan also includes the placement of 86 acres of the farm's most historically and environmentally significant areas under conservation easement. This area will also be donated to the Northern Virginia Regional Park Authority for use as a passive public recreation park. The future park will be contiguous to other public parkland and, eventually, will provide a connection to the Potomac National Heritage Scenic Trail and Balls Bluff Battlefield Regional Park.
Finally, the family's plan envisions that the balance of the farm – comprising approximately 96 acres – will be developed as a low-intensity, environmentally-sensitive residential community laid out according to "new urbanist" principles. A revival of the lost art of placemaking, new urbanism is a land planning approach premised upon the manner by which villages and cities have been designed for the last several centuries. These principles include walkable blocks and streets, human-scale design, grid street patterns, and accessible public spaces.
To implement its vision for the future neighborhood, the Harris Family worked with Elm Street Communities, new urbanist architect/planner Michael Watkins Architects, and the Dewberry, Ltd engineering firm. Together, the team crafted a plan for a 250-unit neighborhood that is conceived as one larger "village" with three smaller "neighborhoods," which will feature both single family homes and townhomes.
The team drew inspiration from the vernacular architecture and layouts of some of Loudoun County's most historic towns, including Waterford, Middleburg, and Leesburg. As a result, the design offers a series of inter-connected blocks with streetscapes that are green, tree-lined, and spacious, along with planning principles that seek to reduce the visible presence of automobiles wherever possible. An emphasis was placed on building design and architecture, and how the location of homes would help foster social interaction amongst residents.
A variety of inviting public green spaces will be provided, including 34,000 square feet of active recreation space, 25,000 square feet of pocket parks, and 25.5 acres of open space. These outdoor areas are intended to provide natural corridors for trails and walkways, and are in addition to the future public parkland to the north.
To respect the farm's topography, cultural settings, and natural environment, the design preserves the farm's environmentally-sensitive areas. Homes will be sited away from Edwards Ferry Road in an attempt to preserve the historic roadway's rural ambience and existing farm structures.
To fully implement the project's new urbanist design elements, as well as to provide a more compact walkable community, a series of zoning ordinance modifications were requested related to setbacks and yard requirements. Recognizing the need for affordable housing as well as its importance in a new urbanist setting, 15 percent of the units will be offered as affordable dwelling units or affordable market purchase units.
The result is an exciting project which will deliver a unique new community with substantial park amenities, and help fulfill Loudoun County's vision for responsible and quality growth.
Walsh Colucci Shareholder Andrew Painter represented Elm Street Communities during the zoning process.
More information on the community may be found here: cattailrunleesburg.com