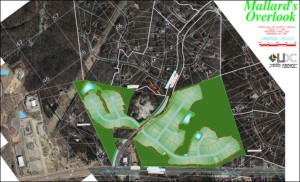 On behalf of HC Land Company LC, Walsh, Colucci, Lubeley & Walsh Shareholder Jay du Von and Land Use Planner Marian Harders obtained approval from the Prince William County Board of Supervisors for two companion rezoning applications located in the Coles Magisterial District and Potomac Magisterial District. Land planning and engineering was provided by Land Design Consultants.
Known as Mallard Overlook North and Mallard Overlook South, the combined project area consists of approximately 107 acres of A-1 (Agriculture) divided by Minnieville Road near its intersection with Route 234. The project area is surrounded by older homes, which were developed for well and septic fields. Over the years, some of the homes have experienced well and septic system failures. The ability to bring water and sewer to the adjoining neighborhoods was a key component to the rezoning approval process and brings with it a significant benefit to the surrounding community.
The projects will yield 94 single family detached homes with more than 40 acres of undisturbed open space.