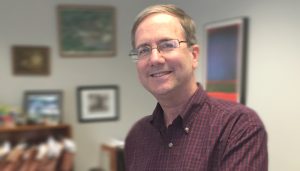 On an unseasonably warm day in late September, I sat down with Bill Fogarty (no relation to John Fogerty, of Creedence Clearwater Revival fame) to talk about his community involvement and volunteer work.
Bill is a shareholder in the Arlington office and has been with the firm for more than 30 years. He works in the Real Estate Transactions and Commercial Business Transactions practice group. Bill's initial introduction to community involvement came through his two daughters and their school activities, and as a coach and club manager for the Arlington Soccer Association. But, over time, his community involvement and volunteer work evolved.
Today, Bill is a Power Lunch Reading Mentor with Everybody Wins! DC, serves on the Board of Directors of the Walter T. McCarthy Law Library, and is a member of the governance committee for Arlington Partnership for Affordable Housing (APAH). Bill has been able to use his skills as a real estate attorney to help APAH as it has grown over the past 25 years from a fledgling non-profit committed to developing, preserving, owning, and advocating for quality affordable housing in Arlington to an organization whose real estate portfolio includes 14 properties valued at more than $200 million. At its annual fundraising celebration last year, Bill was recognized as one of the 2015 APAH Affordable Housing Honorees for his 20-year commitment to the partnership and his involvement in the Arlington community.
Bill, who taught high school English before going to law school, believes volunteering and community involvement help create empathy and build relationships. "In real estate law we really need to know the community. It is good to get out of the office and see what the community is like and where the needs are, especially because the projects we work on, as real estate lawyers, affect the community." Bill believes community involvement and volunteer work have broadened his perspective and made him a better lawyer and a more effective advocate for his clients.
If you are looking to get involved and trying to decide which organizations to devote your time to, Bill suggests you consider what energizes and challenges you, and where curiosity leads you. "Passion and interests are important, but so are your skills. Try to fit those skills to a need." And because balancing work demands with community and volunteer obligations can be a challenge, Bill offers this advice: set realistic goals, work efficiently, and understand your priorities.