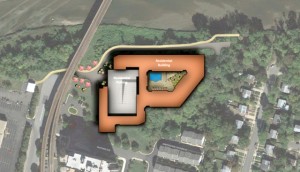 Lennar Multifamily Communities, LLC, has filed a series of applications to allow an approximately 356-unit, six-story multifamily building near the Huntington Metro Station.
The approximately 6.32-acre site has been approved for office use since 1991, but has remained vacant over the years. The site is directly south of Cameron Run where Fairfax County is designing a levee to protect the Huntington area from flooding.
The Huntington Levee project will include a pumping station as a precaution to potential tidal surges from the nearby Potomac River and overflow from the Cameron Run Watershed. The levee project is scheduled for completion in the spring of 2019. Lennar has been working closely with Fairfax County to ensure the development accommodates and supports the County's improvements.
In addition to supporting the levee project, Lennar proposes a trail connection along Cameron Run that will tie into the existing trail network in the area. Lennar further proposes an urban plaza adjacent to Huntington Avenue that will serve as a community amenity.