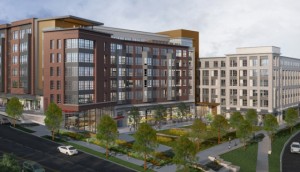 Walsh, Colucci, Lubeley & Walsh, P.C., recently added another chapter to its long history of success in representing new developments along Columbia Pike. On February 20, Cathy Puskar secured County Board approval of the new Village Center development, pursuant to the Columbia Pike Commercial Centers Form Based Code.
The Village Center development, located at the intersection of Columbia Pike and South George Mason Drive, will consist of construction of a new six-story mixed-use building with 365 market-rate apartment units and three levels of underground parking. The development will also include:
A 50,000-square-foot Harris Teeter grocery store
Approximately 31,120 square feet of in-line retail
A new public square featuring water elements, outdoor seating, plantings, and public art
A rooftop terrace and other private amenity spaces
Upgraded streetscape, sidewalks, and landscaping
Improvements to the existing bus stop on South George Mason Drive
Utility undergrounding along South George Mason Drive
Bicycle parking
Cathy assisted the client and consultant team in navigating the Arlington County Form Based Code review process, which culminated in a unanimous approval by the County Board. The Village Center development will be a cornerstone for new development in the center of the Columbia Pike corridor and will spur revitalization in the surrounding area through the provision of new amenities, residences, and retail opportunities.
Cathy is currently representing additional Commercial Centers and Neighborhoods Form Based Code developments along Columbia Pike.