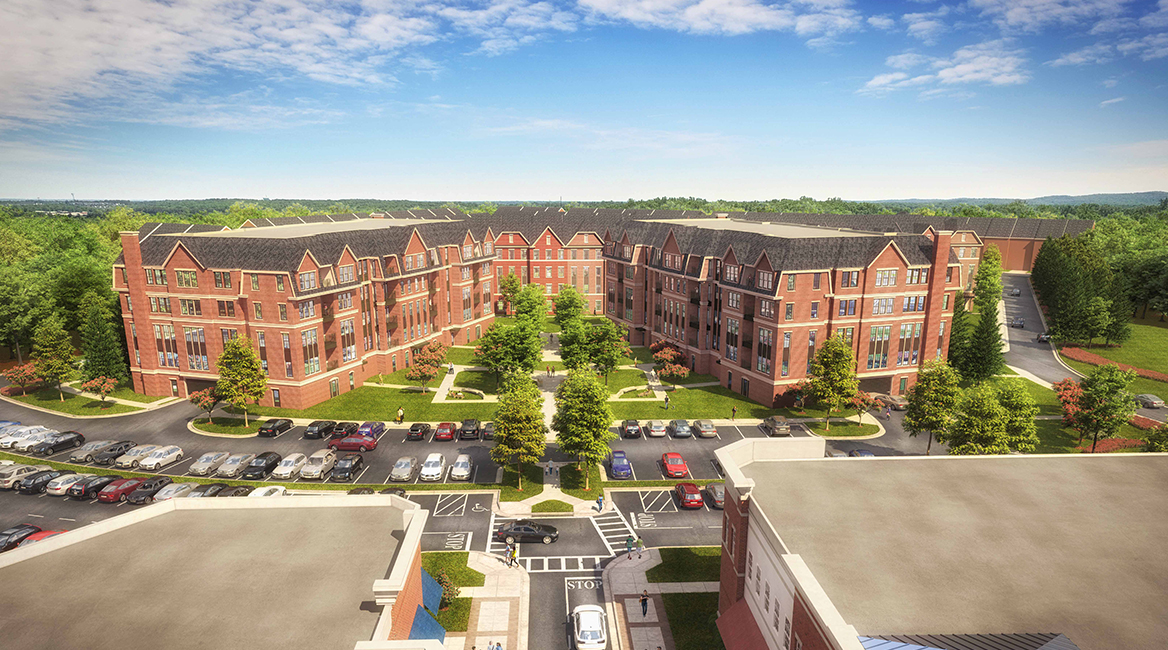 On October 16, 2018, the Fairfax County Board of Supervisors approved K. Hovnanian Homes' rezoning request to construct a 219-home community on 18 acres located north of the Pender Village Shopping Center along Route 50 in the Fairfax Center area. The new neighborhood, which will replace an aging office building and parking lot, will include 91 townhomes, 56 stacked townhomes, and 72 multifamily flat condominiums.
The impetus for the project finds its genesis in the Fairfax Center Phase II Special Study, which was adopted by the Board of Supervisors in 2016. For more than three years leading up to the study's approval, K. Hovnanian worked with County staff to develop comprehensive planning text that conceived a new neighborhood as an alternative to the property's existing commercial use. The proposed community was specifically designed to implement the new planning recommendations. As approved, the neighborhood will serve as both a logical extension of the existing shopping center as well as provide an appropriate transition to surrounding residential neighborhoods.
The community's architecture is intended to complement the shopping center's architectural treatment and create the appearance of a more unified, organic mixed-use development. Cognizant of the site's location adjacent to established residential communities, K. Hovnanian's design provides substantial landscaping, buffers, and open space. Nearly half of the property will be designated as open space, and 20 percent will be preserved for tree preservation. Housing affordability—a key planning goal—also figured prominently into the overall design, and the project will provide 10 Workforce Dwelling Units and 16 Affordable Dwelling Units.
The neighborhood will offer multiple open space amenities, including a 17,400-sq. ft. landscaped courtyard to serve as a central gathering space for residents and shopping center patrons. A large central green interior to the site will provide room for a tot lot, swimming pool, bathhouse, and open lawn. A quiet, contemplative garden at the northwest corner of the property will also be provided. The design also features a coordinated pathway system linking the property to the shopping center, as well as other community elements such as fire pits, specialty landscaping, and benches.
Prior to the unanimous approval by the Board of Supervisors, the project received recommendations of support from County staff and the Planning Commission. Walsh Colucci Lubeley & Walsh attorney Andrew Painter represented K. Hovnanian before the Board of Supervisors.