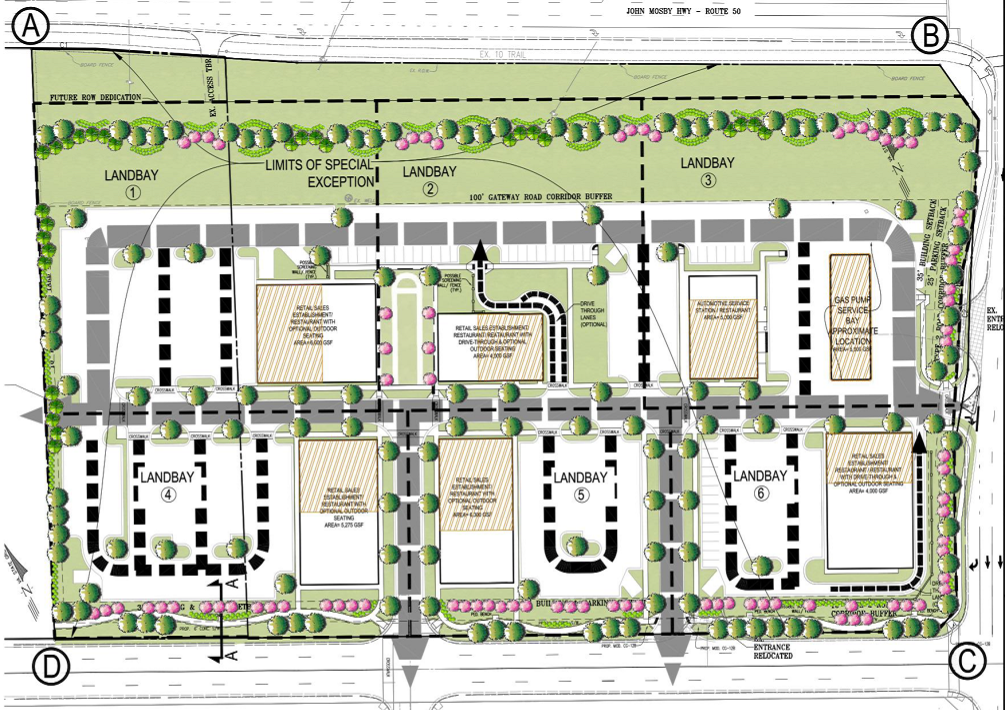 The recently approved MC Dean special exception application will enable the development of retail and restaurant establishments in an area of Loudoun County that currently lacks these amenities. Located at the intersection of Route 50 and Pleasant Valley Road, the MC Dean property has long served as a gateway to Loudoun County. For decades, the MC Dean property has served as a light-industrial employment use. The area around the MC Dean property has developed over the years with predominantly residential uses. Through the development of these residential uses, the demand has grown for more convenient, walkable, restaurant and retail services.
The MC Dean application included the approval of four special exception uses: restaurant, restaurant with drive-through, retail sales establishment, and automobile service station. As the rezoning process progressed, the project evolved from an auto-centric layout into a pedestrian-friendly design that encourages pedestrian access from the nearby residences. The layout of the project accommodates well-designed transitions to the residential neighborhood to the south as well as Route 50 to the north. A meandering sidewalk and ample landscaping connects the property to the residential neighborhood and a 100-foot wide Gateway Buffer with significant landscaping and design features separates the property from Route 50.
With buildings fronting on an internal east-west corridor, the internal layout fosters a Main Street feel. This layout integrates all six of the project's land bays into one cohesive design. Outdoor seating from the restaurants fronts on a 5,000 square foot public plaza at the center of the property. A promenade leads pedestrians and vehicles from East Gate View Drive into the public plaza at the heart of the project. The intersection of these features around the public plaza has the potential to create a true sense of place.
Walsh Colucci worked collaboratively with the applicant, its consultant team, and the Board of Supervisors on the design of the property as well as the navigation of policy challenges to gain approval of the project. The residents of this area will now greatly benefit from retail and restaurant amenities within walking distance of their homes.
Image Source: URBAN, LTD.