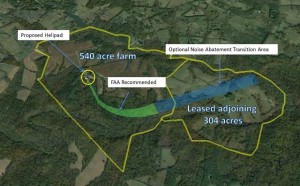 Christine Gleckner, Land Use Planner in WCL&W's Loudoun office, recently obtained approval for a unique special exception application permitting a private heliport in western Loudoun County. Our client, a licensed helicopter pilot who travels between numerous business locations and several farms in the region, owns and operates a business based in Sterling. The existing 60-by-100-foot concrete pad will be used as a helicopter landing pad, and the foundation of an existing 6,540-square-foot barn will be used to construct a hangar for the helicopter.
At the time the special exception application was submitted, only two federally recognized heliports existed in Loudoun County, one at Loudoun Hospital Center and the other at a Bluemont FEMA location. Our client's heliport is one of the first residential heliports in the County.
Despite our client's voluntary efforts to restrict the heliport to personal use and implement a number of additional mitigation measures, opposition surfaced shortly after the application was filed with the County. While much community support for the application existed, the vocal opposition expressed the belief that the heliport would unduly interfere with horses and the rural ambience of western Loudoun County. With the assistance of Paul M. Schaaf, an aviation consultant hired by our client, we were able to demonstrate that the arrival and departure of the helicopter from the vast 540-acre farm would not be disruptive to the rural environment. Our client agreed to follow the Helicopter Association International's "Fly Neighborly" program practices and to make the landing pad available for emergency helicopter use as part of the approval. With the special exception approval in hand, our client plans to construct his primary residence on the property and place the farm under a permanent conservation easement.