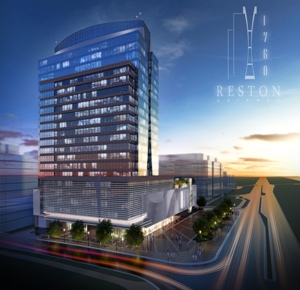 On Tuesday, September 11, 2012, Walsh Colucci representatives obtained PRC Plan approval from the Fairfax County Board of Supervisors for Reston-based RTC Partnership, LLC's proposal to allow the redevelopment of its 2.36-acre "RTC Office Building" site in the Town Center North area of Reston. As approved, the existing structure would be replaced by a 23-story "Class A" signature mixed-use building consisting of approximately 413,700 square feet of office uses and approximately 5,200 square feet of retail and restaurant uses at a density of 4.08 FAR.
The owner's plans envision the property as a Transit–Oriented Development ("TOD"). This complex approval required the owner and Walsh Colucci to navigate through, and evaluate the import of, a series of prior zoning approvals affecting the site. For example, the property's unique zoning history called for commercial uses on the property without height or density restrictions. Additionally, it is one of only a handful of properties located in Reston's "Town Center" district that were not subject to the 1987 Reston Town Center rezonings.
The project also necessitated the need to respond to concerns raised by members of Reston Association's Design Review Board, the Reston Planning & Zoning Committee, the Fairfax County Planning Commission, and the Fairfax County Board of Supervisors. In response, significant changes were made to the project's architecture, layout, and amenities.
As approved, the building includes high-end architectural design features, a 36,000 square foot rooftop terrace, a screened parking structure, a commitment to pursue LEED Silver certification, a contribution towards public art in Reston, an aggressive Transportation Demand Management ("TDM") program to reduce peak hour trips, as well as pedestrian connections to Reston Town Center and nearby trails, and the planned Reston Parkway Metrorail station. Nearly half of the footprint of the property is set aside for public open space, and the project also includes facilities for cyclists, joggers, and pedestrians.
Key personnel from Walsh Colucci involved in the project approval included Art Walsh, Lynne Strobel, John Foote, Bill Keefe, and Andrew Painter, who gave the presentation before the Board.