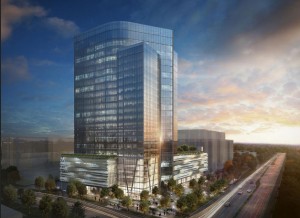 On June 7, Art Walsh, Andrew Painter, and Bill Keefe obtained PRC Plan Amendment approval from the Fairfax County Board of Supervisors for Akridge/RTC Partnership, LLC's proposed redevelopment of the RTC Office Building site in the Town Center North area of Reston.
The 2.36-acre site is subject to a PRC Plan approval granted in September 2012, which permitted a 23-story Class A signature mixed-use building consisting of approximately 413,700 square feet of office uses and approximately 5,200 square feet of retail and restaurant uses at a density of 4.08 FAR.
The PRC Plan Amendment permits critical modifications to the building's massing, architecture, facade, entry plaza, terraces, and parking garage. The changes will allow owner Akridge/RTC Partnership, LLC, to meet current leasing standards, accommodate the demands of discerning office tenants within the Reston Town Center area, and improve the building's distinctive characteristics as well as its functional design.
As approved, the building will feature a six-story, dramatic atrium lobby that will serve as a distinct corner landmark feature, an expanded entry plaza with outdoor seating and landscaping, and a revised garage façade treatment to foster visual interest. The building will also offer a rooftop terrace offering impressive views of Reston Town Center and the Blue Ridge Mountains. Nearly half of the property's footprint is set aside for public open space. The project also includes facilities for cyclists, joggers, and pedestrians.
During the review process, WCL&W worked with Fairfax County's Department of Planning and Zoning staff, members of the Reston Association's Design Review Board, the Reston Planning & Zoning Committee, the Fairfax County Planning Commission, and the Fairfax County Board of Supervisors. Several issues, including entry points, building height, surrounding trail networks, and visibility, necessitated negotiation and resulted in significant changes to the project's original architecture, layout, and amenities.
The revisions will allow the proposed building to serve as a defining architectural statement along Reston Parkway. Information on the building's design may be found here. For more information, email Andrew Painter or call 703.528.4700.