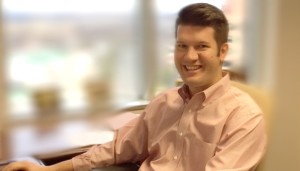 Walsh, Colucci, Lubeley & Walsh, P.C., is pleased to announce that Robert Brant has joined the firm's land use and zoning practice group. "Bob is a welcome addition to our firm," said Mike Coughlin, Shareholder in the Prince William office and fellow Catholic University Law School alumnus. "He will be able to hit the ground running for our land use clients."
Inspired by his father, a land use, zoning, and real estate attorney who specializes in diverse land development projects in southeastern Pennsylvania, Bob had set a goal to practice at a mid-size law firm where his work would directly affect and help shape the communities where he lives and works. "I have always been interested in this field of law," said Bob. "I'm excited for this opportunity and looking for ways to get involved in the community."
Enthusiasm for real estate law isn't the only thing Bob's father bestowed upon him. When Robert Brant Sr. was growing up in the 1960s and '70s, he was an avid record collector—everything from the Beatles to Bob Dylan to the Rolling Stones. Today, Bob looks after his dad's anthology and hasn't lost interest in adding to it. Recently married, Bob and his wife Jenna enjoy browsing for rare titles at CD Cellar, on Wilson Boulevard in Arlington, and at Mobius Records in Fairfax.
Before joining The Land Lawyers, Bob was an associate with Chadwick, Washington, Moriarty, Elmore & Bunn, P.C., where his practice focused on assisting boards of directors of condominium and homeowners associations with all aspects of association governance. Bob earned his J.D. from the Catholic University of America Columbus School of Law and attended The College of William & Mary where he earned a Bachelor of Arts in Government and German.
You can reach Bob via email at rbrant@thelandlawyers.com.