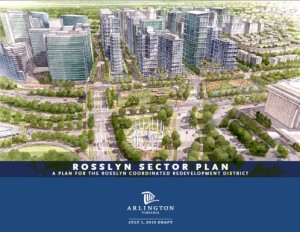 The Arlington County Board is poised to vote at its July public hearing on an amendment to the Rosslyn Sector Plan that will have huge implications for future redevelopment projects in Rosslyn. As we reported in Land Sense in January,  the County Board initiated a community-driven process known as Realize Rosslyn in 2012 to update the Rosslyn Sector Plan, which has not been updated since 1992. The goal of Realize Rosslyn is to guide Rosslyn's growth and development in accordance with the County's General Land Use Plan and other policy documents.
The multiyear review process has included consideration of building height and massing, parks and open space, and transportation issues that resulted in the adoption of a plan framework in April 2014. Actual draft Sector Plan text  was subsequently developed and released. The draft Sector Plan includes, among other things, site specific recommendations for height, density, and stepbacks that will likely be codified in the County's Zoning Ordinance. Some of the height and density recommendations for individual sites are below the maximums traditionally approved in Rosslyn, so the County has received a great deal of feedback and expressions of concern from developers and commercial property owners about those and other issues.
As the process of updating the Sector Plan draws to a close, the County Board and staff continue to meet with commercial property owners and other stakeholders in an attempt to address lingering areas of concern. The County Board is scheduled to vote on the new plan at a public hearing to be held on July 22.