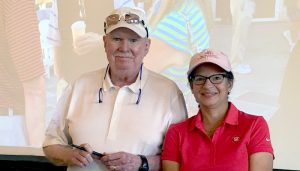 Leesburg, Virginia, is a very long drive from Naples, Italy, where Michelle Stapleton was born. Michelle is no stranger to long drives, and short putts, and bogies and birdies. She and her husband, Steve, are avid golfers, which is a good thing. Since 1988, Michelle has been Art Walsh's assistant and the driving force behind the firm's annual JDRF golf outing.
The Land Lawyers: How long have you been working for the firm?
Michelle Stapleton: My first day on the job as Art's assistant was February 1, 1988. The same year my son turned 2. He'll be 32 next February!
TLL: Working for the founding shareholder, and Nan Walsh, a managing shareholder, must keep you on your toes. What do you enjoy most about working with Art and Nan?
MS: I'm so proud to work for Art and Nan. Over these many years, they have made me feel more like family. I work closely with our clients, coordinating meetings and events and, over the years, have seen the many positive changes in the Northern Virginia landscape as a result of Art and Nan's diligence and expertise. They lead by example and are the ultimate professionals.
TLL: You have worked closely with Art for the past 19 years coordinating the annual JDRF golf outing. How has it evolved over the years?
MS: The annual golf outing is a special project that I always look forward to. I enjoy coordinating the attendance of our client participants, organizing auction and raffle items, recognizing our hole sponsors and donors, and working with the JDRF team and volunteers who have, over the years, also become our friends. Art's most challenging task is arranging the golf pairings. We typically have a full field of 144 participants, so I work closely with Art on that assignment. Preparing for the outing is exciting because I get to work with great people. As always, it's a pleasure to work with the staff at Westwood Country Club, Steve Buckhantz, our client sponsors and donors, and car sponsors. About two months before the outing, we start monitoring the weather hoping for that trifecta of perfect weather, perfect course conditions, and everything going off without a hitch. We have been so lucky to have such generous participants and supporters at this event. Over the past 19 years, our annual event has raised more than $1.1 million for JDRF, the leading global organization funding type 1 diabetes research.  We are all so excited about our next outing in September – it will be our firm's 20th anniversary event!
TLL: What is your most memorable moment in the history of the JDRF golf event?
MS: I have many fond memories, but the ones I remember most are the year one of the golfers got a hole in one and won a car, when sports psychologist Dr. Bob Rotella attended and gave a golf clinic, and the years we got rained out and had to reschedule and were blessed with spectacular weather. But even those few drizzly years when we didn't cancel, everyone still came together for the cause. There's also the excitement of our clients arriving for registration, hearing Art's welcoming remarks, and the roar of 70 or more golf cart engines kicking into gear after the shotgun start. But the most memorable moment happens every year during the reception when all the participants stand to give Art heartfelt applause in appreciation and, this year, for receiving the Rapaport Lifetime Service Award representing all he has done to make this event the success it is. It's all very memorable.
TLL: You not only know how to co-host a successful golf event, you also know what a birdie, bogie, and bunker is. How long have you been playing golf?
MS: I learned to play golf as a teen, and Steve and I have played for years. But just in the past 15 years we've been able to play regularly at River Creek, where we live. We really enjoy traveling to play golf and have taken long weekends to travel down to Williamsburg and the Carolinas to play.
TLL: Have you ever gotten a hole in one?
MS: I've never gotten a hole in one, but I think about it before I tee it up on the par 3s! I'm going to keep trying!
TLL: Why do you think Walsh, Colucci, Lubeley & Walsh is a great place to work?
MS: Everyone here makes this a great place to work. We strive to work cohesively and efficiently because we care about our clients and each other.
TLL: Thank you, Michelle!